Charley Hull 'a world beater', says Tony Jacklin
Last updated on .From the section Golf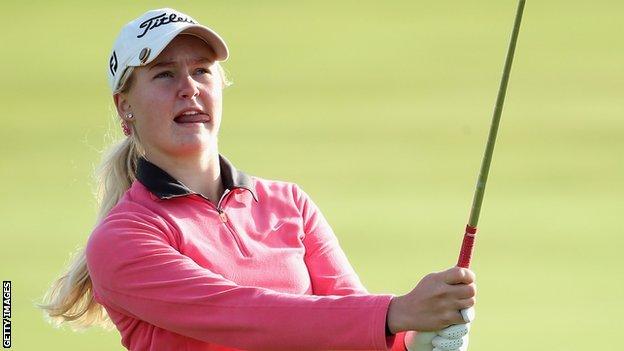 Teenager Charley Hull will become one of the "true greats" of golf, according to former Open champion Tony Jacklin.
Hull, 17, has finished second in five of six events in her first professional season on the Ladies European Tour and is third in the rankings.
"I knew as soon as I saw her play that she is a world beater," Hull's mentor Jacklin told BBC Sport.
"Nothing is going to stop this girl, if she stays healthy. It's not very often you see this kind of talent."
Hull was only nine years old when she revealed her potential by winning the Ladies' Golf Union's Health Perception Championship at Turnberry in 2005.
The Kettering youngster had an outstanding amateur career, reaching third in the world rankings and earning a call-up to the British & Irish team that beat the USA in last year's Curtis Cup.
And, having finished 18th at the British Masters and 38th at the LPGA Kraft Nabisco Championship, Hull was given a conditional card for this year's European Tour.
She was second in her first five events and missed out on the title at the German Open when she lost a
Hull befriended 68-year-old Jacklin, at the 2012 British par-three tournament and has stayed with the 1969 Open Champion at his home in Florida.
"She's a precocious talent and just a great kid," said Scunthorpe-born Jacklin, who is the most successful European Ryder Cup captain of all time and also the 1970 US Open winner.
"Her work ethic is unbelievable. I think this is just the tip of the iceberg. If she stays well she'll be one of the true greats that there has ever been.
"There's so many ways to mess up if you're not careful. You've just got to keep your head on straight.
"I've been 50 years a pro and I've seen almost everything. The key is not playing too much and staying fresh mentally."
Jacklin says it is a "foregone conclusion" that Hull will become Europe's youngest ever player at the 2013 Solheim Cup, but believes she will need to move to America at some point to further her career.
"There's no doubt about that. The error of my ways was I tried to live in the UK," he said.
"I realised too late that the advice I was getting wasn't about me, it was about the people who were looking after me.
"My career might have gone on a lot longer had I moved here and still supported golf in Britain."