Colin Montgomerie to play in Senior Open Championship
Last updated on .From the section Golf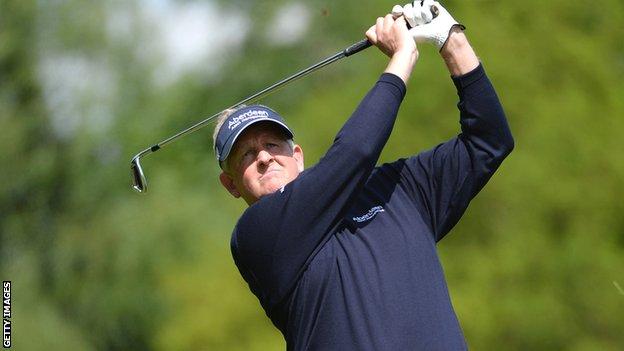 Former European number one Colin Montgomerie will make his senior debut at the Senior Open Championship at Royal Birkdale from 25 to 28 July.
The Scotsman, who was 50 on Sunday, the minimum age for competing on the seniors tour, won a record eight European Tour Order of Merit titles.
He captured a total of 31 European Tour events, and rose to second in the world rankings, but never won a major title.
"I'm under no illusion as to how good the seniors standard is," he said.
Montgomerie won seven successive Order of Merits from 1993 to 1999 but is without a title since the European Open in 2007.
In six events on the European Tour this season he has missed the cut four times, with a best finish of tied 29th in his opening event, the Volvo Golf Champions tournament in South Africa in January.
"I've played recently with guys who are younger than my children," added Montgomerie. "You say, 'hang on a minute, this isn't quite a level playing field'. Suddenly I'll be the youngest, playing against guys like Bernhard Langer who is six years older than me.
"I'll be a rookie, and therefore hopefully in an advantageous position. I've been playing against guys who are 23 or 24 years old and they are hitting the ball a mile, so it's about time that parity came along."
Montgomerie will face stern competition from several of his former Ryder Cup team-mates and opponents.
Langer has won 18 times on the US Champions Tour since making his debut in 2007.
The German has two victories this season, having won twice last year and five times in 2010, when he claimed both the Senior and US Senior titles, while Ian Woosnam is currently third in the European Senior Order of Merit.
"My good friend Bernhard Langer is dominating Senior golf right now, and all credit to him, especially as he coming up to 56 years of age in August," Montgomerie said.
"Then of course there's Fred Couples, Kenny Perry, Tom Lehman - I could go on and on. There's a great set of players, and they will take a bit of beating.
"But if I can come in and challenge them, I think they will enjoy that, and so will I, and hopefully all of the spectators will too.
"It's about time I won a major championship, so let's hope that one might just be in the offing. But if not, I will still love the competition of it."