Little Merion provides a huge test

By Nigel Ringland
At the US Open
Last updated on .From the section Golf
It is the age-old question - does size matter?
In the case of Merion Golf Club this week it certainly doesn't. In fact, you could argue the best things come in small packages.
The journey to this little piece of American golfing history, and by little I mean 126 acres, takes you through the leafy suburbia of Philadelphia with sumptuous mansions tucked away between the trees.
The city itself is only nine miles away, but you wouldn't know it.
In order for America's national championship to return here after a 32-year absence, the local residents needed to be on board with the idea. Literally, because on the short trek to the media centre you actually walk through someone's back garden.
The temporary locker room for the players is in one of the aforementioned mansions and many of the marquees that host the corporate guests are located on land owned by the local residents.
This has truly been a community effort, but it means that the capacity per day is limited to 25,000 spectators, which will see the USGA take a hit financially.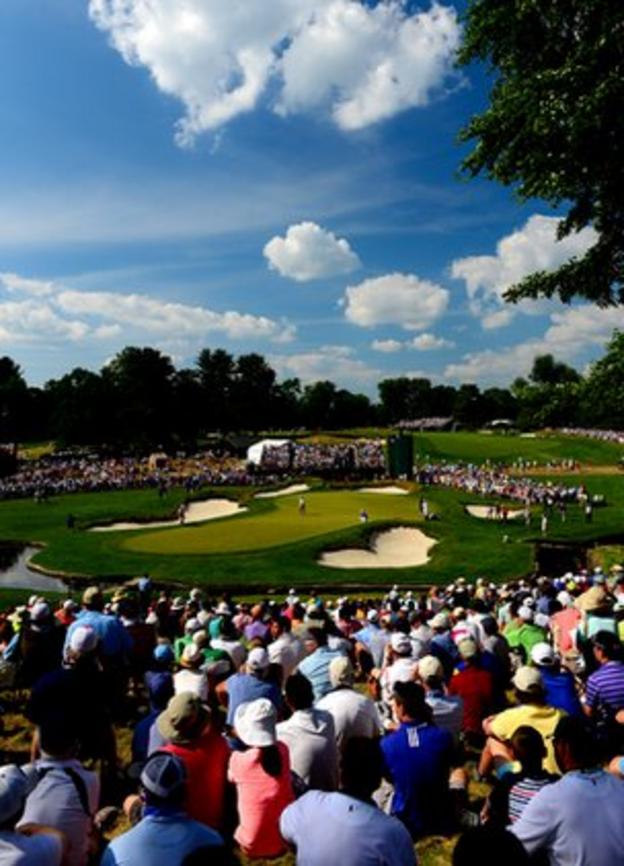 However, it is to their credit that, by bringing the championship back here, they are willing to sacrifice profit for the history and tradition of the game, a decision which should be commended.
At the start of the week, when the heavens opened and dumped an inch and a half of rain on the shortest US Open course since Southern Hills in 2001 - a mere 6901 yards - it was felt by many that Merion couldn't provide a test for the world's big boomers.
Well, not only has it provided a punishing examination, it has destroyed many of the best players, leaving them with their heads in their hands.
Darren Clarke and Graeme McDowell were among the causalities, and McDowell in particular will be disappointed as many people thought with the premium on accuracy this set-up would suit him.
But, narrow fairways and thick, lush rough and soft greens with tricky pin positions protected Merion and McDowell had seven double bogeys in two rounds - more than he had had all season.
In all fairness, not too many of the golfers have been publically critical of the set-up that sees them having to be driven 15 minutes from the practice range to the first tee, another oddity of the week and one determined by the cosiness of the area and none certainly were proclaiming they were going to shoot the lights out.
As Rory McIlroy pointed out to the assembled media: "I didn't hear any golfer say that, that was you guys, you must be pretty good golfers."
However former Masters winner Zach Johnson, a playing partner of Graeme McDowell and who finished 11-over par, missing the cut, wasn't a happy bunny.
"I would describe the whole golf course as manipulated," said Johnson.
"It just enhances my disdain for the USGA and how it manipulates golf courses. I think Merion is a great golf course, if you let Merion be, but that is not the agenda."
Johnson is right, to a certain extent. The USGA want to protect par as a score and this is the self-proclaimed "toughest test in golf."
There is a whole lot of history at Merion Golf Club. It's the venue where Bobby Jones completed the sport's only Grand Slam and Ben Hogan's 1-iron shot became one of its most enduring images and Lee Trevino threw a rubber snake at Jack Nicklaus before beating him in a play-off.
This week Merion has proved herself a fitting venue for a US Open despite its size.
Now over to you - the Royal And Ancient - how far are you willing to go to bring the Open back to Royal Portrush?
After all, money isn't everything and size doesn't matter.
Merion has shown it can be done.