US Open: Waterlogged Merion widens nets of potential winners

By Iain Carter
BBC golf correspondent
Last updated on .From the section Golf38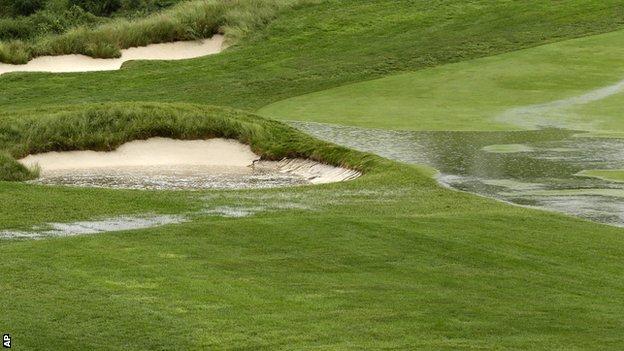 If there was ever a US Open that needed to be blessed with fine weather it was the one to be staged here at Merion this week.
This was going to be a championship where for once size wouldn't matter. The ability to blast the ball miles would be superseded by a challenge of finesse and accuracy.
But for that scenario to play out, this historic course needed to be dry and firm. Instead it has been battered by successive deluges that have brought six inches of rain to the area.
Brooks are close to bursting point and there are doomsday scenarios being considered that might even involve using holes from the adjacent Merion West course.
This, sadly, is a week for wellies and waterproofs. Think the 2010 Ryder Cup at Celtic Manor and you are not too far from the situation greeting the world's best players.
So how does this alter the outlook for the second major of the year?
USGA executive director Mike Davis says: "If you saw Merion firm for four straight days versus soft for four straight days, you might see an 18- to 20-shot difference in the winning score."
Had the 6,996-yard par-70 layout been dry with thick penal rough, the target would have been a touch under level par.
Now it is likely to be much lower. It's not beyond the realms of possibility that we see the first 62 at a major. Mud-balls may prove Merion's biggest defence.
"If you are on your game you are going to have a lot of birdie putts," said Open champion Ernie Els.
Given the modest length of the course, players will be using a driver only half a dozen times a round and often wedged approaches can be set up by mere long irons from the tee.
There are few better players from within 100 yards than England's Luke Donald. He scouted the course last week before the rains struck. Even though the character of the East Course has been radically altered since then, he doesn't feel his mission was time wasted.
"This is a course that has quite a lot of blind tee shots," he told BBC Sport. "The greens won't have changed too much in terms of the lines they'll putt so it was good to come here.
"For the bulk of the players, this is a new place and it's about learning the course, feeling comfortable about it and feeling good about the lines off the tees.
"The course will play a lot softer now. The par fives are very long. I would have loved to have got a little roll off some of those tee shots.
"It's going to be tough - even the 18th [a 521-yard par 4], if the wind is into me, is going to be two of my best shots just get home in two.
"But any time you get soft greens it is going to take the edge off some of those short game shots around the greens, so that could be a benefit for me.
"Sometimes majors are so difficult around the greens then no matter how good your short game is you are not going to get it close. With softer conditions, hopefully touch around the greens will come more into play."
Donald's preparation has centred around wedge play from 120 yards in. Even with the change in conditions, this remains the area where the 113th US Open will be decided.
If the Englishman is to be a factor, a quiet season has to come alive this week. He feels it is close but is also aware the rains have widened the net of potential winners.
The last time the US Open was staged here in 1981 precision triumphed when David Graham came home in 67 to claim victory. He missed only one fairway - the first by matter of inches - in a round that was praised to the heights by Ben Hogan.
The 1950 champion at Merion purred with delight as he watched on television, and he later told the Australian it was one of the greatest rounds he had ever seen.
And finding fairways remains the number one priority at the Pennsylvania course this week because the rains have rendered the rough even more brutal.
So who are the most likely candidates? Tiger Woods's form this year makes him a huge and justifiable favourite. He won't mind the prospect of hitting his famous "stinger" shot to put his ball in play and leaving his driver largely redundant.
If his wedge is working, he might be unstoppable - but he needs to rediscover the putting touch that deserted him at the Memorial Tournament the week before last.
Outside Woods, there are any number of potential winners. Europe's best hope is probably 2010 champion Graeme McDowell but the course also sets up well for players who prosper through finding fairways and greens.
Italy's Francesco Molinari is one who could fit that bill, and American Zach Johnson could be a threat if he can discover the form that brought him two wins last year.
But opportunity knocks for any number of contenders who can make the most of the soft conditions.
Pins will be tucked away to try to protect the scorecard but Davis has also acknowledged that for the first round the driest spots on greens may have to take priority.
More showers are forecast and Thursday looks very messy with potential thunderstorms.
So, as is so often the case at a US Open, precision and patience in adversity will remain key attributes.
But the difference with this week's conditions is that the players know an aggressive mindset can also bring rich rewards.