US Open 2013: Scots golfer Chris Doak sets no US Open targets
Last updated on .From the section Golf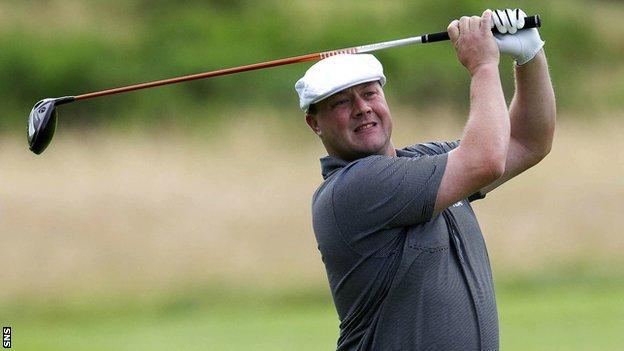 Scottish golfer Chris Doak is setting no targets after his surprise qualification for the US Open.
The Glaswegian reached the tournament after finishing tied eighth at the Walton Heath qualifying event.
It is 35-year-old Doak's first appearance at a Major, and he is planning on soaking up the experience of being at the Merion course.
"I just want to hit the shots I know I can hit; it would be great to be up there at the weekend," he said.
"The atmosphere's great - these are the practice days and the crowds are phenomenal.
"I thrive on the atmosphere and the crowds, that's what keeps you going."
Doak also revealed an unlikely inspiration for his trademark flat cap.
"It was my wife actually at an AC/DC concert," he said.
"She said - the singer's wearing one, why don't you wear it on the course?
"Plus, it's the only one that fits my head."
The Merion course has been hit by torrential downpours in recent days, but Doak is sure that will make no difference to the challenge of the course.
"The rain's changed it, but it's still a tough course," he said.
"With that amount of rain, and now the heat, it's going to be even tougher.