Sergio Garcia leaves Tiger Woods apology note on 'fried chicken' row
Last updated on .From the section Golf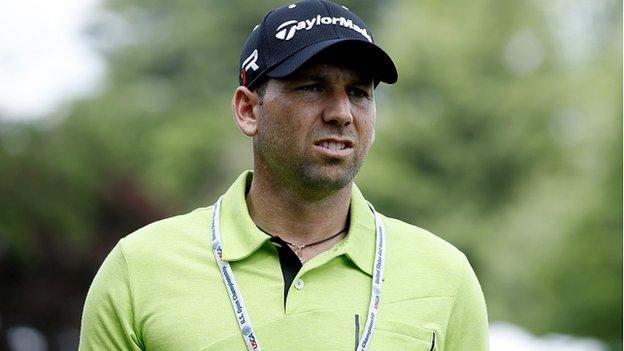 Sergio Garcia left Tiger Woods a note in his US Open locker to apologise for last month's "fried chicken" remark.
The pair shook hands on the practice range at Merion on Monday but have not had a chance to speak at length.
Garcia had responded to an on-course dispute between the pair by joking at a European Tour awards night he would invite Woods for dinner to make up and would serve fried chicken.
The food is stereotypically associated with black people in the southern US.
Woods said in his news conference on Tuesday there was no direct apology from Garcia.
"We have not had time for that," said the world's number one golfer. "We did not discuss anything. He came up and said hi and that was it. It's already done. It's time for the US Open."
Spaniard Garcia, 33, apologised profusely at his US Open news conference, adding: "We saw each other on the range. I felt it was not the appropriate place, out of respect to him and the other players to do it there, so I was hoping to meet him after the round but he was gone. This morning I was here early and I did not see him around.
"I did leave him a hand-written note and hopefully he can take a look at it. It's a big week and I understand that it's difficult to meet up. Hopefully we will be able to but if not, at least he can read the note and be happy with that.
"If he wants to show you [the media] the note he can, I don't have any problem with that. But I am not going to be the one showing."
Woods previously said the comment was "hurtful" and "clearly inappropriate", prompting an apology from Garcia, who insisted it had had no racist intent.
The feud between the two started at the Players Championship last month, with Garcia incensed when distracted by crowd noise he felt had been generated by playing partner Woods.
There were concerns that the issue would overshadow this week's second major of the year, the first event in which they have both competed since Garcia's remarks.