Caddie Billy Foster returns to golf after injury nightmare

By Iain Carter
BBC golf correspondent
Last updated on .From the section Golf69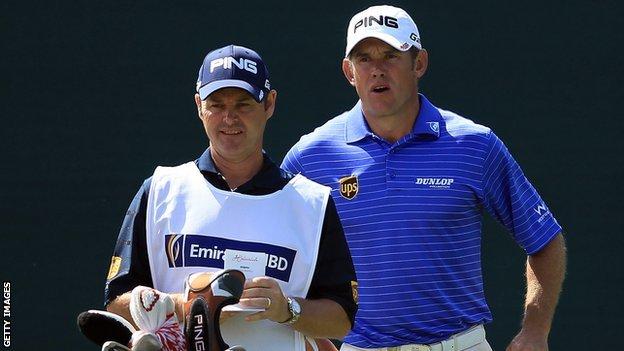 As the bitter wind and rain compounded a miserable start to last week's BMW PGA Championship at Wentworth, there was one figure whose spirits could not be dampened.
What Billy Foster would have given for the chance to be soaked and frozen to the bone a few times in the past year. Instead he spent most of it lying on his couch watching daytime TV.
The 46-year-old Yorkshireman's ability to do what he regards as "the best job in the world" had been taken from him by a freak injury at a football match in which he wasn't even taking part.
He had been asked to play in a caddies' match last spring in Charlotte, North Carolina. "My famous last words were 'no, I'm too old and my job's too important to me to get injured'," he told BBC Sport.
Fatefully, though, he took part in the pre-match kick-about and as he stretched for a stray ball, his foot lodged in a hole in the pitch. "My body went one way and my leg the other," he said of the moment the ligaments in his right knee snapped. "You could hear it 20 yards away."
In that moment he lost his dream job, a lucrative role as his then best mate Lee Westwood's right-hand man.
Foster thought he would be out of action for a few weeks. He had no idea it would take 13 months and three operations before he would be back inside the ropes.
And he wasn't at all prepared for the months of misery that followed, compounded when, after holding the position open for six months, Westwood confirmed he would be sticking with Mike Kerr as his caddie for the start of the following season.
"I feel like I've been in my padded cell for the last 12 months," Foster said. "It's been incredibly hard. Unless you've been there and done it, you could never explain. Losing the fantastic job that I had with Lee Westwood has been soul-destroying.
"It was a long tunnel, one of those Swiss tunnels that go through the Alps for 20 miles, and when I got to the end of it, it had a padlock on. Now I've escaped, I'm loving every minute of it."
Last week Foster, who has also caddied for the likes of Severiano Ballesteros, Sergio Garcia and Darren Clarke, paired up with Thomas Bjorn, whose bag he was on when the Dane so nearly won the Open at Royal St George's in 2003.
"It's lovely to be back," he said. "It was like my first day at school. I felt apprehensive the first day but it's almost like I've never been away."
That Foster is finally back doing the thing he loves is actually down in large part to an intervention from the world of cricket.
"The one guy I really have to mention is [physiotherapist] Dave 'Rooster' Roberts from Lancashire," he said.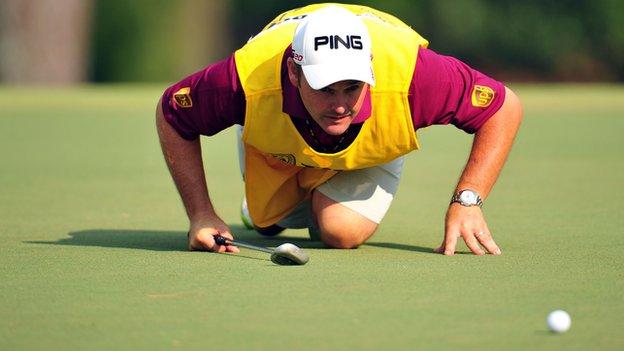 "He phoned me at about the nine-month stage and asked why I wasn't back. He said: 'Look I want to help you. I'm not going to charge you, come across to Manchester.' I've been going over there two or three times a week since.
"I had no structure to what I was doing and he's really put me through the wringer. I never sweat when I'm in Kuala Lumpur, but he's been wringing it out of me in that gym."
Roberts's blunt style was just what Foster needed, and as well as taking charge of his physical rehabilitation the physio also recognised signs of depression and took Foster to Portugal.
"I saw the sunshine for the first time in 10 months," he said. "It was like I could feel the weight lifted off my shoulders overnight. I got my life back that day. Dave Roberts, I can't thank you enough."
While he was injured, the caddie's only income had come from a few after-dinner speaking engagements. But someone who has deputised for Steve Williams on the Tiger Woods bag is sure to be in demand and now, having caddied for all four rounds over the arduous West Course, Foster knows he is fit physically as well as mentally.
"Whoever I end up with I just want to get the best out of them and the best out of me and make up for lost time," he said.
"I've got a massive burning desire in me to finish what I've always wanted to do as a caddie. I want to achieve great things with whoever it is."
And he will do it with a new perspective. "You know, I'm not knocking players, but sometimes when they are out there and things aren't going their way it's given me a perspective of being able to say: 'Listen mate, you've only missed a three-foot putt.'
"I will get the jester's hat on again and have a laugh and joke and forget what's gone.
"I mean, you try lying on a couch for 12 months doing nothing and they're whining over missing a three-footer," he said, quickly adding: "I won't put it that way - I'll always find a way to put it across properly."
Always by nature a happy-go-lucky character, he now couldn't be better qualified to dispense perfectly simple but invaluable advice: "Focus on what's to come and be positive about it."