Fighter Stacy Lewis reaches the top of the world rankings

By Iain Carter
BBC golf correspondent
Last updated on .From the section Golf15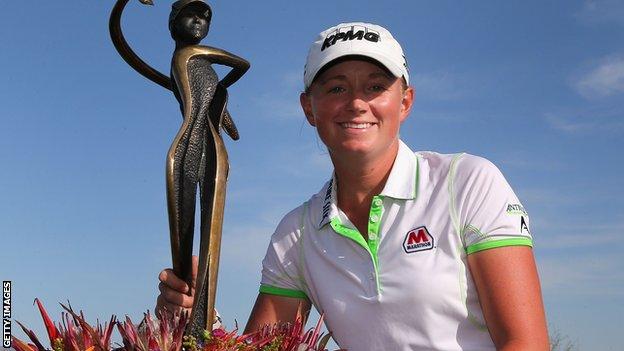 Almost a decade ago, surgeons operated on the back of a shy, teenage American girl. She was a promising golfer, but few thought that under the knife lay a future world number one.
Especially when you consider that she would have to live with a metal rod and pins in place to treat a severe curvature in her spine.
But Stacy Lewis is nothing if not a fighter.
Ten years on, the latest rankings show her to be the world's best female player. The 28-year-old American succeeded Yani Tseng at the top after winning the LPGA Tour's RR Donnelly Founders Cup in Arizona. It was a gutsy victory that, somewhat typically, involved her overcoming a fair share of adversity.
On Saturday, Lewis thought she was about to sign for a third-round 66 that would push her even further up the leaderboard with one round to go. But then her score was amended to a 68 after television viewers spotted her caddie, Travis Wilson, apparently testing the surface of a bunker on the 16th hole, an illegal move.
"We looked at the video - and you have to slow it down, zoom in on his foot," said Lewis. "He walks into the bunker, he kind of pushes, he kind of bounces his knees a little bit, and his foot turns.
"That was kind of the big indicator, that his foot turned, and you could kind of hear the sand crunch a little bit. So that's deemed to be testing the sand."
As a result, Lewis was handed a two-stroke penalty that meant she trailed Japanese leader Ai Miyazato by four rather than two shots.
But, undaunted, Lewis responded by firing a final-round 64 that gave her a three-stroke victory.
"Thank you to the viewer who called in because he gave me an extra motivation," Lewis smiled afterwards. "Although I didn't really need it."
Born in Toledo, Ohio, but brought up in the northern outskirts of Houston, Texas, Lewis has never lacked for motivation. Even today, she struggles to comprehend the level of success.
"Almost 10 years ago, I was going into surgery to put a rod and five screws into my back," she said. "That's not normal, that's not meant to happen.
"I'm really not supposed to be here. People with metal in your back - how do you play golf? I don't know. I couldn't have dreamed the kid growing up wearing a back brace 18 hours a day is now the number one player in the world."
The surgery cost her the first year of her college career. She spent her time chipping and putting, but also watched and learned as her Arkansas team-mates were coached on the range.
Lewis also adopted a punishing gym regime that she continues. Six 90-minute sessions a week are aimed at building and maintaining her core muscles to compensate for the restriction in her torso rotation.
"She has want and will," said her trainer, David Donatucci. "She is one tough young woman."
Lewis found the media spotlight hard to live with at first, but she has found a way to embrace the attention that now comes her way and is determined to enjoy her reign at the top of the rankings.
"I'm going to have fun, I know that," she said. "I watched Yani struggle with it for too long. I'm going to go have fun."
This is welcome news for the LPGA Tour, which has been without globally identifiable heroines since the retirements of Annika Sorenstam and Lorena Ochoa.
Tseng is a brilliant golfer and, at her best, found a way to dominate the women's game in much the same way as Tiger Woods did on the men's tour. Yet the Chinese Taipei player is not a recognisable sporting star beyond the Asian market.
Lewis, who claimed her first major when she won the 2011 Kraft Nabisco Championship, can reinvigorate the US women's scene.
"There's no question Stacy has energised the domestic market," said LPGA Commissioner Mike Whan.
Two of her personal sponsors have already moved into roles backing American tournaments. This kind of development is a significant shift in what has been a depressed market.
For Lewis, though, good golf takes care of pretty much everything.
Rising to the top of the world rankings was her main objective for the 2013 season. Having also won the HSBC Women's Champions event in Singapore earlier this month, she is now well ahead of schedule.
"Probably keeping expectation levels down," in her words has now become her biggest challenge. "Knowing how hard it is to win out here, I know it's not going to happen every single week."
Expectation levels needed to be tempered when she lay in that operating theatre 10 years ago, but she is living proof that didn't mean installing a ceiling on her ambition.