Rory McIlroy admits 'no excuse for quitting' Honda Classic
Last updated on .From the section Golf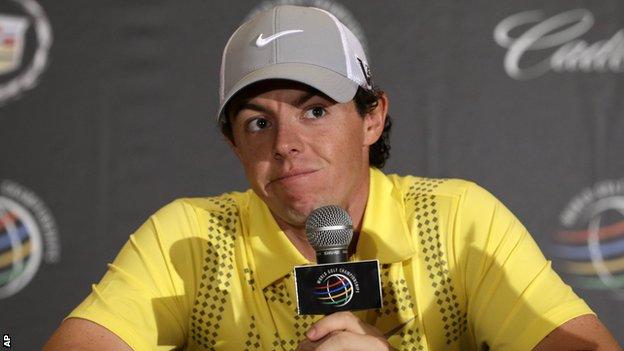 World number one Rory McIlroy said there was no excuse for walking off during the Honda Classic on Friday, adding that he would not do it again.
But facing the media on Wednesday for the first time since the incident, he said the pain did not justify quitting.
"I realised pretty quickly it was not the right thing to do," said the Northern Irishman.
"I regret what I did. It won't happen again. There is no excuse for quitting."
McIlroy, the defending champion, had completed eight holes of his second round and was seven over par for the day, having just found the water, when he walked off the course.
"At that moment in time I was all over the place and I just saw red," said the 23-year-old. "I feel like I let a lot of people down with what I did last week, and for that I am sorry.
"No matter how bad I was playing, I should have stayed out there. I should have tried to shoot the best score possible even though it probably wasn't going to be good enough to make the cut."
As he left the course he told reporters he was in a "bad state mentally". A short time later he issued a statement blaming his early exit on troublesome wisdom teeth.
"I wasn't in a good place with my golf game," McIlroy explained. "Mentally, my head was all over the place. But at the same time, I have been struggling with my lower right wisdom tooth for over a year.
"So, yeah, my tooth was bothering me, but it wasn't bothering me enough to probably quit. But that's just the way it is."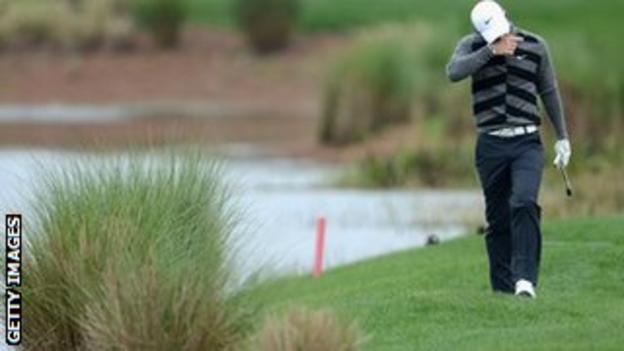 Wednesday's admission came before this week's WGC-Cadillac Championship at Doral in Florida, where he will play alongside Tiger Woods and England's world number three Luke Donald in the first two rounds.
McIlroy changed his clubs at the beginning of the year and has struggled for form in 2013, missing the cut in Abu Dhabi before losing in the first round of the Match Play Championship.
However, he insisted his new equipment is "fantastic" and the problems lie with his swing.
"It's a work-in-progress," he said. "There's no quick fixes in golf but I'm going to go out there this week and all I care about is my swing, and I know if I can get my swing back on track, that the results will follow."
The other theory regarding McIlroy's loss of form has centred on his high-profile relationship with tennis star Caroline Wozniacki, who has been struggling for form herself in recent weeks.
"I've read what's been written and just because I have a bad day on the golf course and Caroline loses a match in Malaysia, it doesn't mean that we're breaking up," he said.
"It's sport, and I'd rather keep my private life as private as possible. Everything on that front is great and I'm looking forward to seeing her next week when she gets to Miami."
McIlroy, the 2011 US Open and 2012 US PGA champion, is assured of playing all four rounds in Florida because the World Golf Championship event has no cut.