Ryder Cup 2014: Tom Watson named US captain
Last updated on .From the section Golf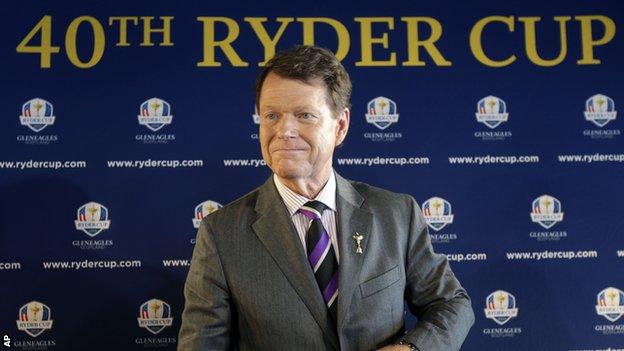 Tom Watson will become the oldest captain in Ryder Cup history after being named as United States skipper for the 2014 event at Gleneagles.
"I was waiting for about 20 years to get the call," he told NBC. "It is a great honour to do it again."
Eight-time major champion Watson was the last US captain to record an away win, with a 1993 victory at the Belfry.
David Toms and Larry Nelson were also tipped to take the job for the event which runs from 26-28 September 2014.
The decision, news of which was broken on NBC's morning Today Show ahead of a formal news conference near the top of New York's Empire State Building, represents a move away from the Professional Golfers' Association of America's policy of appointing major-winning players in their mid-to-late 40s as skipper for the biennial competition.
At 65 when play begins in Scotland, Watson will overtake John Henry Taylor, who was 62 when he performed the role for Great Britain in 1933. He will also be eight years older than previous American record holder Sam Snead, who was in charge as the two sides played out a draw in 1969.
The choice was backed by 14-time major winner Tiger Woods - a player Watson had previously criticised for his behaviour both on and off the golf course.
"I'd like to congratulate Tom Watson on his selection as Ryder Cup captain," the former world number one said.
"I think he's a really good choice. Tom knows what it takes to win, and that's our ultimate goal. I hope I have the privilege of joining him on the 2014 United States team."
Watson admits he is desperate for Woods to be on his side at Gleneagles.
He told BBC Sport: "First of all, I hope he [Woods] is on the team.
"I don't think there is a tougher competitor maybe in the history of the game than Tiger. He is someone who anyone would want on his team."
A more cautionary tone about Watson's prospects was voiced by Europe's 2010 Ryder Cup winning captain Colin Montgomerie.
"What happens if he fails?" he said. "He has to win now. If he doesn't succeed at Gleneagles what's going to happen in 2016?
"There is a lot of pressure on Tom Watson, but he can handle that - I'm sure he can. I personally wish him well.
"It will be a task for anybody to take on Tom Watson because he is very well respected, very well liked and loved here in Scotland."
US PGA winner Toms, 45, had been considered favourite before speculation grew that four-time Ryder Cup competitor Watson would return to the post after he said at last week's Australian Open that it would be "a great honour" to accept the challenge.
Only Paul Azinger in 2008 has led the US to success in the previous six tournaments, in a spell which has also seen Love, Corey Pavin, Tom Lehman, Hal Sutton and Curtis Strange fall short.
Watson, who is the first repeat captain for the US since Jack Nicklaus in 1987, was a leading figure in world golf for a decade from the mid-1970s, a period in which he won four out of his five Open titles on Scottish soil.
The Kansas City native's enduring quality was showcased as recently as 2009 when he lost a play-off for the Open at Turnberry at the age of 59.
Watson said he hoped his vast experience would ensure there would be no repeat of the collapse which saw the US throw away a four-point lead coming into the final day in Chicago.
"I've lived for that pressure, lived underneath that pressure all of my career and I just hope I can set the table for these players to go out," he said.
"I'm a stage manager, I set the stage for them and they go out and perform their act and in two years I hope that we can get it done."