Ryder Cup 2012: Walking the Medinah course

By Tom Fordyce
Chief sports writer at Medinah Country Club, Chicago
Last updated on .From the section Golf40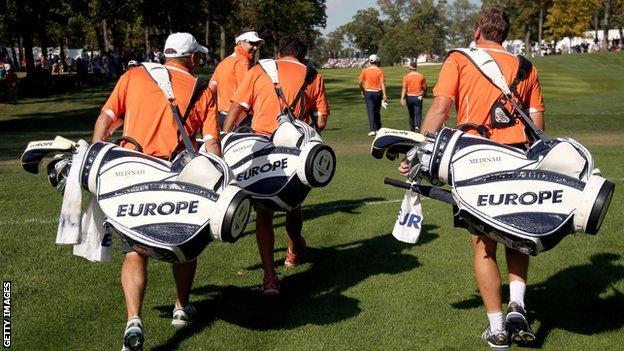 The first thing you notice as you step on to course three at Medinah this week are the colours - deep green fairways, an unblemished blue sky, small blobs of tangerine strolling about on top of one and underneath the other.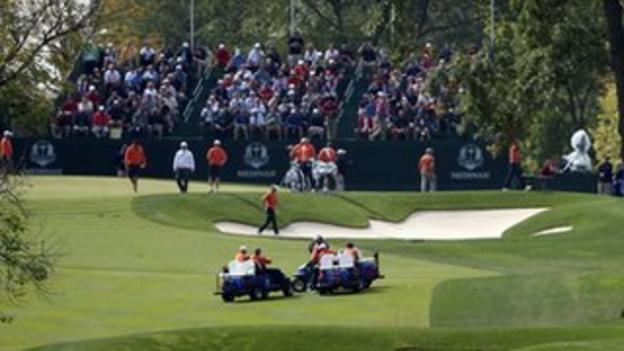 The tangerine, mercifully, will not last; they were the shirts worn by Europe's Ryder Cup team for their first practice round, and will be long gone by the time the serious business begins early on Friday morning.
The rest will remain, with the all-important addition of even more whooping, swaggering, partisan punters than were evident on Tuesday afternoon.
This was the sun-dappled calm before the approaching storm, a chance to walk the course with only 10,000 or so for company. It was a precious glimpse from the wings at the stage on which the 24 players will soon be performing for real.
As always on a championship course, eyes are immediately drawn to the playing surface. "I just don't like rough," US captain Davis Love III had admitted the previous day, and his tactical wish has been granted.
These are fairways smooth and inviting enough to not only eat your dinner off but actually include among your five a day. The stuff that brackets them is hardly punishing, more slap across the wrist than draconian punishment.
But oh, is it long. Rolling between avenues of autumnal trees, curling around the wriggling shore of Lake Kadijah, these 7,648 yards have been extended even since Tiger Woods won the second of his two PGA Championships here in 2006.
It is a course for the big drivers, for the players who like chasing birdies and want nothing more than to rip it with adrenaline from every hollering tee.
The first might not have the most testing set-up - 433 yards pretty much straight, only a nasty fairway bunker on the left and a well-bunkered sloping green to mess with the mind - but as ever at Ryder Cups it is all about that first tee.
Surrounded on three sides by steep temporary stands, staring down at massed ranks of faces lining the ropes that stretch away in front of them, the European players will be entering a bear-pit, the sort of claustrophobic arena that turns palms damp and sets strong men's knees knocking.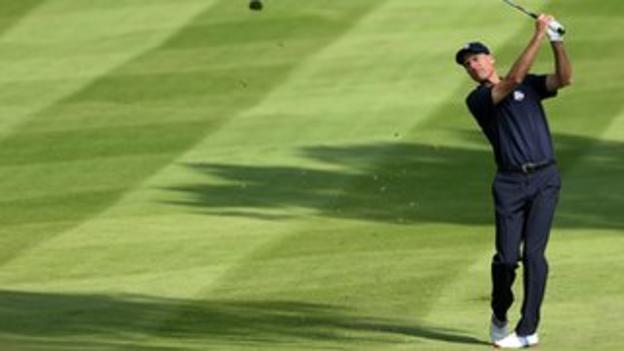 There is no respite. The 192-yard par three second, from the tee, appears to be all water and one very small patch of shoreline on which to land your ball. The green on par four third is lapped by cavernous sand-traps; the uphill fourth has an elevated green so fast that it appears to be made from polished jade.
All around lies the furniture of one of the biggest weeks in the sporting calendar: huge white hospitality tents tucked under tall trees, vast television trucks just visible in the open spaces beyond the fifth tee, dark green grandstands topped with the flags of Europe, the United States and the Ryder Cup itself.
Buggies zip silently about, ferrying players to practice greens and vice-captains to the players. Miguel Angel Jimenez, veteran of five Ryder Cups and European vice-captain here, speeds past with cap pulled low and ponytail wedged out the back. Spectators crane for a clear view, whoop at their compatriots and, for now at least, applaud politely when the enemy come into view.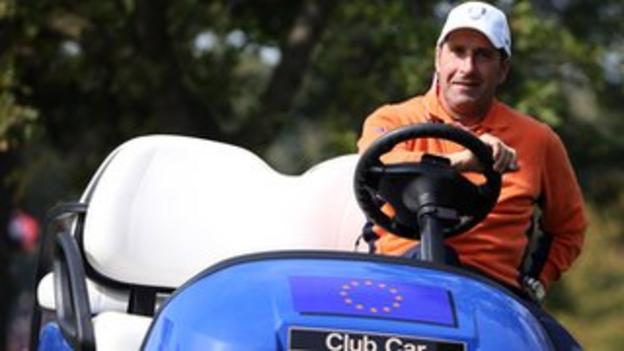 Nothing is quite as you would expect, or will see on television.
The 10th runs parallel with an eight-lane freeway, separated from the roaring traffic only by a wire fence and some strategically placed advertising banners. Carts selling beer are everywhere; thirsty men in polo shirts and cargo shorts make full use.
Everywhere there are Stars and Stripes - tucked into people's back pockets, poking out from hatbands, worn as jackets and trousers and in some cases both together.
Fashion and taste are the silent victims amid the splendour. One happy chap sports lime-green slacks with a slightly different lime-green sleeveless pullover, white shoes and a beige short-sleeved shirt. To his left is a bloke in canary-yellow from head to toe. They have not come together.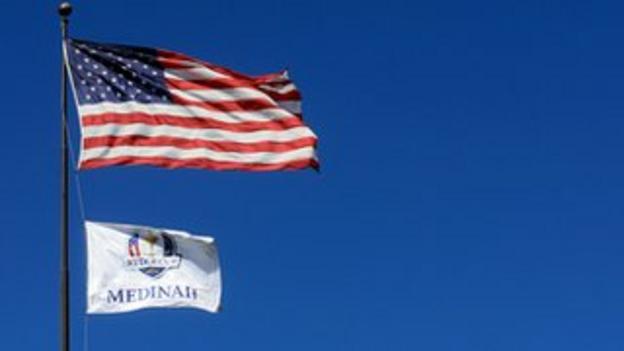 The set-piece holes are spectacular, the sort of golfing eye-candy that appears both too perfect to be true and hideously frightening to contemplate playing.
The par three 13th requires a precision shot of 245 yards, from an elevated tee, back across another monstrous expanse of Lake Kadijah onto a sloping green ringed by bunkers.
You know that you would stand there as a club golfer and instantly fold under the expectation. There is so little room for error that those margins alone would guarantee failure.
The European team's groups of four turn up and eye the challenge ahead. "Go Sergio!" screams an excited American woman, which draws a raised eyebrow from the man she has aimed it at, world number one Rory McIlroy.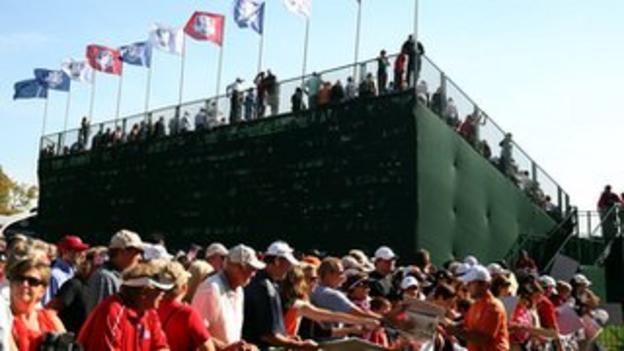 The 16th may be even better, a daunting 482-yard par four dog-leg left through the trees; the 17th, a 193-yard par three, starts high above the lake and ends on the opposite shore in a natural amphitheatre of bunkers and steep slope.
These are the holes where the trophy will be won and lost, the stretches of grass where names will be made and reputations tossed away under the most extreme pressure the sport can produce.
40,000 spectators a day will cram in along the fairways and around the greens, yelling, drinking, celebrating putts that drop with a noise, in the words of Graeme McDowell, playing in his third Ryder Cup for Europe, "like a bomb going off".
It is raucous enough now, three days before battle commences, sufficiently fiery to make you wonder how any player can stay calm in the middle of the coming maelstrom.
But this is what makes this competition great.