Ryder Cup 2012: Bernard Gallacher's record overlooked
By Phil Goodlad
BBC Scotland in Chicago
Last updated on .From the section Golf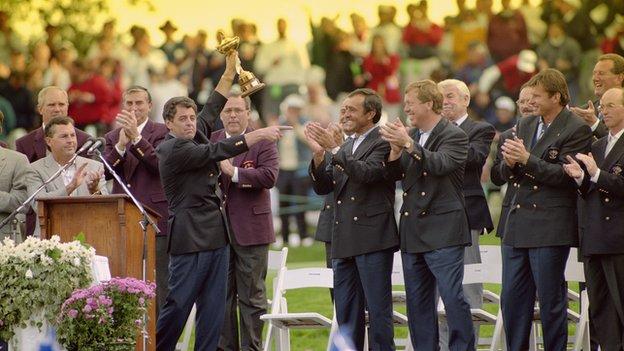 When thoughts turn to the Ryder Cup, it's Colin Montgomerie who's known as Scotland's 'Mr Ryder Cup'.
But perhaps the nickname has been given to the wrong man. Nothing against Monty's incredible record of playing in eight of the biennial matches against the United States and leading his troops to a famous victory in Wales two years ago.
It's just that another Scot has done more: step forward Bernard Gallacher.
"When you play you just try your best; if you are given the honour of being captain, you just do what Colin did at Celtic Manor and try your very hardest and best to win," says Gallacher.
And he knows what he's talking about.
The Bathgate man also took on the Americans in eight matches from 1969 but surpasses Montgomerie's record thanks to his three tours as captain which ended in victory at Oak Hill in 1995.
"When you're captain there's a lot more pressure," explains the 63-year-old. "You feel for the players but you can't really help them.
"As a player you're confident and want to test yourself against the best."
Gallacher certainly did that, regularly coming up against the golfing might of Jack Nicklaus, Arnold Palmer and Lee Trevino. His biggest foe though was arguably encountered at Muirfield in 1973, the only time Samuel Ryder's famous gold trophy has been played for in Scotland.
"I went down with food poisoning and was too ill to play on the Saturday," recalls.
"It was excruciating pain. I went out on the Sunday but really was too ill. It is the most disappointing thing that has ever happened to me."
Gallacher has witnessed great changes in golf's transatlantic battle.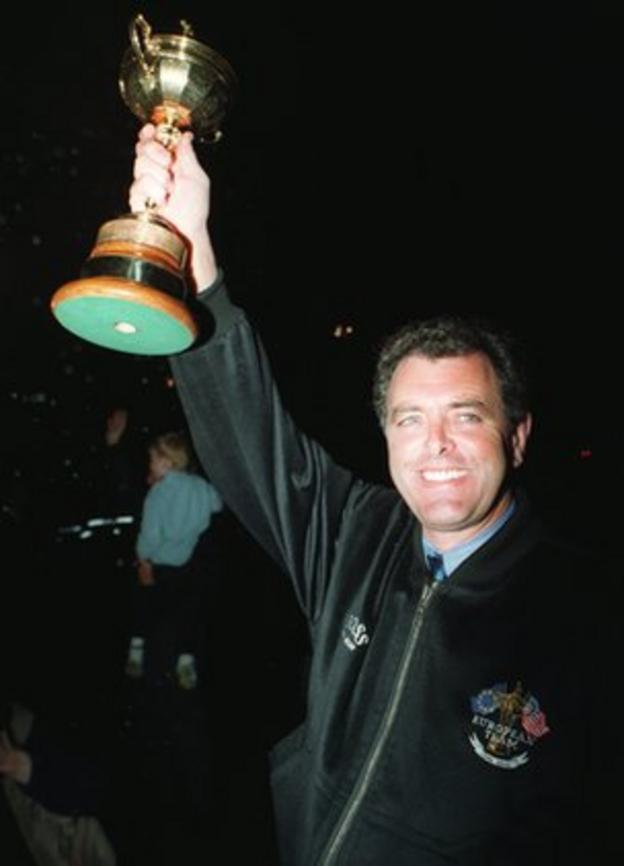 He started playing for Great Britain, then Great Britain and Ireland and latterly Europe. The dynamic of the match has changed too, with Gallacher pointing to the 'war on the shore' at Kiawah Island in 1991 as a major turning point.
"It was just after the Iraq War and was the first time ever that the spectators participated," said Gallacher. "They [American fans] would cheer our players if we missed a putt and there was silence if we holed a putt. It put a different perspective on the Ryder Cup."
Scottish golfers have over the years ingrained themselves in Ryder Cup history. In the second match, held in 1929, George Duncan from Aberdeenshire became the first man to lead a team to victory over the Americans.
Since then the likes of Eric Brown, John Panton, Sandy Lyle, Sam Torrance, Montgomerie and of course Gallacher himself have followed suit.
Gallacher adds: "It's in our DNA. We like the format and testing ourselves against the Americans."
Now it's Paul Lawrie who will continue the Scottish tradition and feel the Ryder Cup tension.
"It brings it's own pressure," adds Gallacher. "You're representing your country, your tour, your family. It can make grown men cry. [Medinah] will be the tightest of matches but I just have a feeling that we will sneak it."
Who are we to disagree with Bernard Gallacher's prediction?
After all, he is our Mr Ryder Cup.