The Golf Show: Jack Nicklaus in top form at Gleneagles
By Graham Spiers
Golf Show presenter
Last updated on .From the section Golf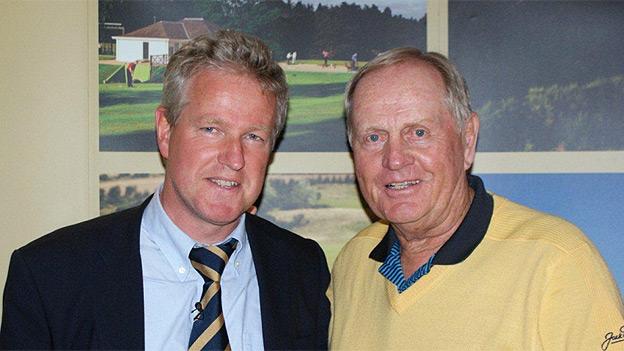 Jack Nicklaus, who was in Scotland this week, is now 72 years old. I'm knocking on myself, but to meet the Golden Bear at Gleneagles, and realise his vintage, really did put the passing years in context.
Older golf fans will vividly recall Nicklaus: voted the greatest golfer of the 20th century, a player whose genius kept recurring over a mesmerising 25-year period.
For younger golf fans - and even having to point this out seems a sacrilege - get online and view some of the great Nicklaus moments.
Having claimed two US Amateur titles in 1959 and 1961, Nicklaus burst on to the professional scene by winning the 1962 US Open at Oakmont. It was the first of his 18 major titles, the last of which came at Augusta in 1986.
That last, dramatic major victory was almost too captivating to comprehend. By this point Seve Ballesteros, Greg Norman and Tom Kite were the new top guns of golf, and Nicklaus, at 46 years old, was supposedly washed up.
In the Augusta media centre, one golf writer, groping around to find the words to write up that Nicklaus 1986 triumph, began his piece: "My fingers won't move. I don't know how to describe this…"
Nicklaus remains a kind of royalty figure in golf, and so when it was announced that he would be at Gleneagles this week to look over his PGA Championship course design for the 2014 Ryder Cup, I happily joined the throng of golf writers who descended on the scene to hear him out once more.
We weren't left disappointed.
First off, and scarcely pausing for breath, Nicklaus took us through his hole-by-hole changes to the PGA Centenary course, talking from memory without any notes.
At first this seemed a slightly wearying soliloquy, with one or two of the writers looking to the ceiling.
But it then dawned on us how serious Nicklaus takes his golf course design, and how absorbed he becomes in such projects.
In this context he highlighted the 14th hole, a short 330-yard par 4, as a possible place of great excitement in 2014.
"It is a very driveable hole, with six bunkers coming into play around the green," he said. "There could be great scores and some great excitement there."
I then covered a range of subjects with him - technology, Tiger, belly-putters and more - and Nicklaus duly went in to free-flow.
I was reminded again, having seen it over many years, how much he enjoys interaction with the press. At Augusta each year a press conference with Nicklaus was almost presented as akin to a meeting with a US President - the writers flocked and Jack didn't half enjoy it.
You can hear my Nicklaus interview on The Golf Show this coming Sunday morning on BBC Radio Scotland.
Many congratulations are due to Montrose Golf Club, which this year celebrates its 450th anniversary. To mark the occasion we will present The Golf Show 'live' from Montrose on Sunday 1 July, with a number of guests joining me and Alan Tait on air.
This lauded links golf club is typical, it seems to me, of the game's rich heritage in Scotland.
Seemingly wherever you look in this country there are golf courses, not of any world renown, whose charm and challenge would whet the appetite of any golfer. All the way up Scotland's east coast, virtually from top to bottom, you find such gems.
My favourite courses: Royal Burgess
I played this course recently - my goodness, what a place! In this summer of 2012 Royal Burgess is in immaculate condition, with the richness of its accompanying colours and foliage making it an outstanding experience.
Little wonder this golf course was once described as "the most attractive inland course in Britain". And its variety of holes, from short par threes to fairly hiking par fours, leaves you pretty satisfied and done-in.