Ryder Cup: US captain Davis Love appoints Couples and Hulbert
Last updated on .From the section Golf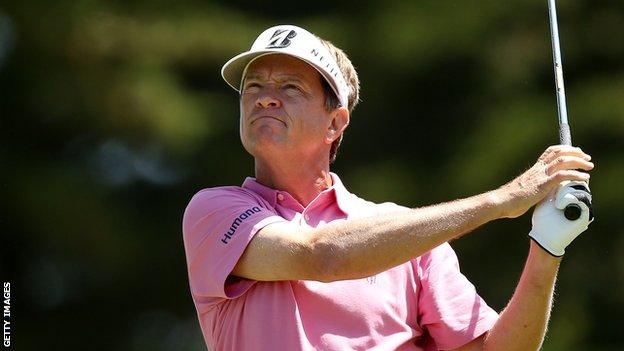 United States Ryder Cup captain Davis Love has named Fred Couples and Mike Hulbert as vice-captains for September's contest in Chicago.
Couples, 52, who won the Masters in 1992, has led the US to victory in the last two Presidents Cup contests against 'Rest of the World' teams.
Hulbert, 54, was Curtis Strange's Ryder Cup vice-captain at the Belfry in 2002.
Love, said: "Those two were my natural choices. My next two will be harder."
The US will be attempting to regain the Ryder Cup, which Europe won 14.5-13.5 at Celtic Manor two years ago.
Love added: "I've talked to Fred a lot since he's done so well the last couple of years with the Presidents Cup team.
"I've gotten a lot of advice from him, been surprised at his level of detail and his commitment to the Presidents Cup and I know that's why the guys are lobbying for him to do it over and over again."
Hulbert was a three-time winner on the PGA Tour and caddied for Love before joining the seniors tour.
Love added: "We will face great challenges this September and I'm very pleased that they have agreed to join me. They are guys that I have played a lot of golf with, and two guys that other players like to be around and work with."
European captain Jose Maria Olazabal is also planning on four assistants, but is not expected to name any until after next month's Open Championship.
As home captain, Love has decided that the competition will start with foursomes rather than fourballs. Paul Azinger did the same in Kentucky four years ago and won, before Colin Montgomerie switched it back at Celtic Manor in 2010.
Love has yet to decide whether to make himself the Ryder Cup's first playing captain since Arnold Palmer in 1963.