Alliss, Mickelson and Lyle join golf's Hall of Fame
Last updated on .From the section Golf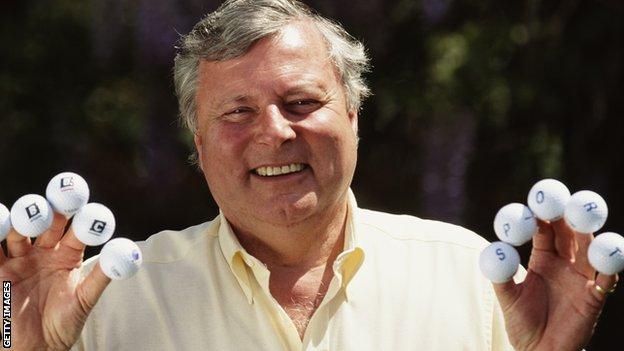 "Voice of golf" Peter Alliss will be inducted into the World Golf Hall of Fame in the United States on Monday.
The ex-golfer turned BBC commentator, 81, will join the likes of American legends Jack Nicklaus and Arnold Palmer and fellow Britons Nick Faldo and Tony Jacklin in the Hall of Fame.
Alliss will be joined at the event by fellow inductees Phil Mickelson, Sandy Lyle, Dan Jenkins and Hollis Stacy.
"It's all come as a bit of a surprise for me," Alliss told BBC Sport.
"I know people think I am a bit loud-mouthed and arrogant but I don't take praise very well, I feel embarrassed by it all."
Scotland's Lyle earns his place after winning two majors, as well as 22 tour events.
American Mickelson is a three-time US Masters champion, has a PGA Championship to his name and has won 36 PGA tour titles since turning professional in 1992.
Last year saw Alliss celebrate 50 years of broadcasting the Open Championship for the BBC.
"I have had five or six careers really. I was a club professional, a tournament professional, an international player, a golf course designer and constructor, a writer of books and, of course, I have worked in television with the BBC, ABC in America and Australia, CBC in Canada and all round the world.
"I have done a range of TV shows; A Round with Alliss, Pro-Celebrity Golf and Golfer's Travels and it's been amazing really. I haven't set out to do any of those things, it just happened."
As a player he won 23 tournaments worldwide, including three British PGA Championships, two Spanish Opens, one Italian Open, one Portuguese Open and one Brazilian Open.
He made eight appearances in the Ryder Cup, the first of which came in 1953 and saw the Alliss family become the first ever to have father and son play in the event.
His father Percy represented Great Britain & Ireland in the 1933, 1935 and 1937 Ryder Cups.
Alliss junior has also been involved in the construction and building of 80 golf courses around the world.
"David Thomas and I designed and constructed the Belfry, which has grown into a huge facility where we won the Ryder Cup several times, and courses as far away as Japan and West Africa," said Alliss.
"Every episode of my life has been very rewarding."
BBC director of sport Barbara Slater added: "Peter's relationship with BBC Sport has spanned over 50 years, and he has become a key voice with his distinctive golf commentary and something of a national treasure.
"It's great that he has been recognised with this award, which truly reflects his dedication and love for the game."