Masters 2012: Augusta chairman quizzed over no-women policy
Last updated on .From the section Golf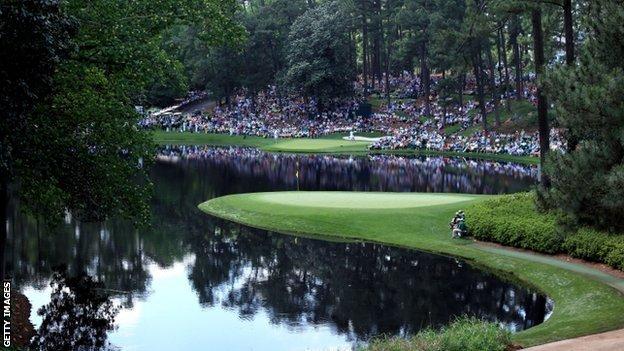 Augusta National Golf Club chairman Billy Payne was forced to deflect questions over the club's men-only members policy, on the eve of the 76th Masters.
The issue arose again because one of the tournament's sponsors IBM has a new chief executive, Virginia Rometty.
All four of her male predecessors were invited to be members.
Payne said: "All issues of membership have been and are subject to private deliberations of the members."
He added: "That statement remains accurate. That remains my statement."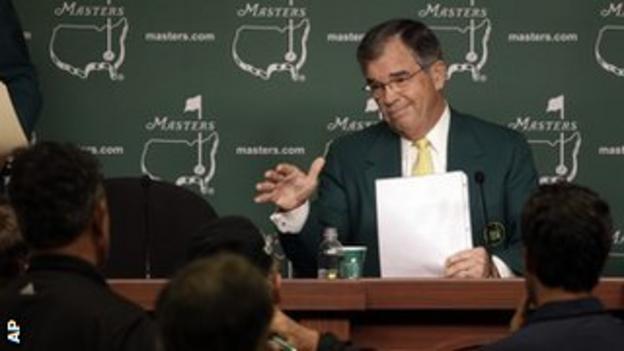 When asked to send a message to young girls that one day they might be able to join, Payne added: "Once again, that deals with a membership issue and I'm not going to answer it. Thank you for your question, sir."
Despite hosting one of sport's most prestigious events the Augusta National, which was founded in 1932, is an intensely guarded private club with about 300 male members.
When pressed repeatedly on the topic and asked why he could not elaborate, Payne added: "I guess two reasons. One, we don't talk about our private deliberations. Number two, we especially don't talk about them when a named candidate is part of the question."
The issue first came up in 2002, when Martha Burk, the then chair of the National Council of Women's Organizations, campaigned for Augusta National to end its all-male membership and threatened to boycott companies whose executives belonged to the club.
Burk protested outside the Augusta entrance ahead of the 2003 Masters but the club resisted.
Payne's predecessor Hootie Johnson said at the time that female membership would come on the club's timetable and "not at the point of a bayonet".
The first black member to be appointed at Augusta was Ron Townsend, president of Gannett Television Group, in 1990.