John Daly quits after hitting six balls into lake
Last updated on .From the section Golf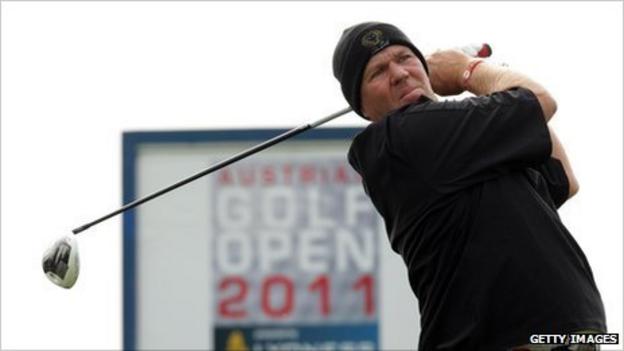 American golfer John Daly has made an embarrassing exit from the Australian Open after walking off the course part way through the first round.
Two-time major winner Daly quit after hitting six balls into the water from the 11th tee at The Lakes Golf Club.
The American then shook hands with playing partner Craig Parry before walking off the course.
"I would say this is the last time we see John Daly at this tournament," said tournament director Trevor Herden.
"I'm extremely bitter and disappointed. It's becoming a bit of a habit."
Daly, 45, also walked off during his second round at the Austrian Open at Atzenbrugg in late September following a rules infringement. On a previous visit to the Australian Open in 2008, he smashed a spectator's camera.
On this occasion, he was penalised two shots at the 10th hole for hitting the wrong ball out of a bunker, leaving him seven over for the round approaching the 11th.
Daly later tweeted: "When you run out of balls, you run out of balls. Yes I shook my playing partner's hands and signed my card with [the] rules official."
But Herden said running out of golf balls was no excuse for quitting in the middle of a round.
He added: "If you run out of golf balls and are acting in a professional manner, you would call the course officials and we would replenish his stock."
Daly, nicknamed 'Wild Thing', continues to attract invitations to tournaments around the world despite failing to win a title since 2004.
The big-hitting American won the 1991 US PGA Championship in Carmel, Indiana after finding out he would be playing just the day before the tournament.
He won the Open Championship in 1995 and has rarely been out of the headlines since - as much for his struggles with alcohol, gambling and relationship problems as for his golf.
The PGA of Australia said it had withdrawn Daly's invitation to the 24-27 November Australian PGA Championship at Coolum and said he would receive no appearance fee for either tournament.
"The PGA does not need this kind of behaviour tarnishing the achievements of other players and the reputation of our tournaments. John is not welcome at Coolum," Australian PGA chief executive Brian Thorburn said.