Steve Williams escapes punishment for racist remark about Tiger Woods
Last updated on .From the section Golf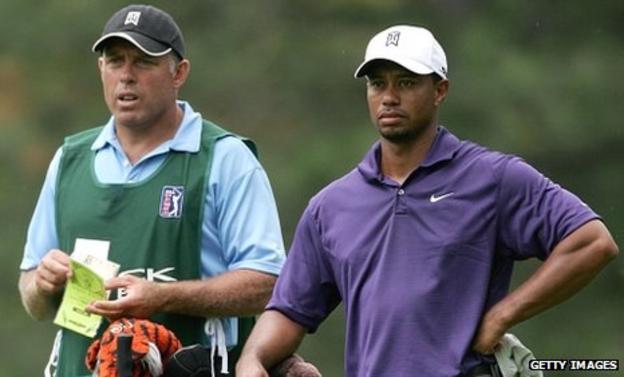 Caddie Steve Williams has escaped punishment for his racist remark about his ex-boss Tiger Woods.
Williams, who now carries Adam Scott's bag, made the comments at the annual caddies' award dinner on Friday.
He has since apologised for his remarks and European Tour chief George O'Grady and US PGA Tour commissioner Tim Finchem have decided to take no action.
They said in a statement: "We are aware he has apologised fully and we trust we will not hear such remarks again."
O'Grady and Finchem met during the final round of the WGC Champions event in Shanghai, .
Their statement added: "The International Federation of PGA Tours feels strongly there is no place for any form of racism in ours or any other sport.
"We consider the remarks of Steve Williams, as reported, entirely unacceptable in whatever context.
"We are aware he has apologised fully and we trust we will not hear such remarks again. Based on this, we consider the matter closed and we will have no further comment."
Scott, who tied for 11th in Shanghai, said after the final round he was comfortable with the tour's statement.
"I don't think anyone condones racism in sport," Scott said after confirming that Williams will be working for him at the Australian Open, where he is scheduled to be playing with Woods during the opening two rounds.
He added: "I think from my side of things - and my team's - that the matter has been put to bed. I'm moving on."
Williams, who was sacked by Woods in July, apologised on Saturday. He said: "I now realise how my comments could be construed as racist. That was not my intent. I apologise to Tiger and anyone else I have offended."
Williams caddied for Woods from 1999 until earlier this year and shared in 13 of the former world number one's 14 major victories. It is estimated he earned $12m (£7.5m) working for Woods.