Luke Donald leads Webb Simpson by two at Disney Classic
Last updated on .From the section Golf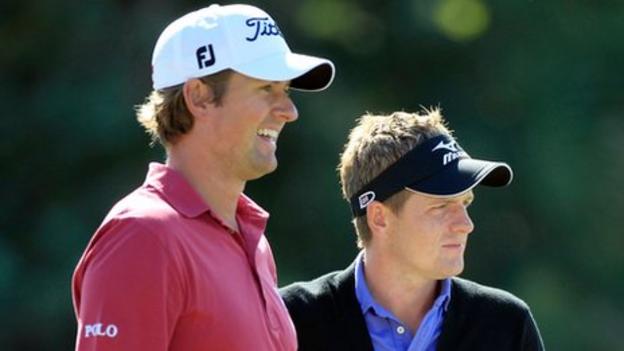 World number one Luke Donald grabbed the advantage in his title duel with American Webb Simpson by charging into a share of the lead in the opening round of the Disney Classic in Florida.
The Briton fired a flawless six-under-par 66 on the Palm course.
Simpson, who is vying with Donald for the PGA Tour's money list title and possibly also player of the year honours, opened with a four-birdie 68.
"Six birdies, no bogeys is always a good round," Donald said.
"I played a pretty solid round. Couple loose shots at the end. It wasn't that easy out there. The wind was strong enough to make it a little bit tricky with club selection.
"You would like to make your fair share of birdies and capitalize on the easier place," Donald said. "I think I did that."
Donald's round put him into a seven-way tie for the lead with Americans James Driscoll, Gary Woodland, Scott Stallings and Derek Lamely, India's Arjun Atwal and Australian Nathan Green.
Webb and Donald have been paired together by organisers for the first two rounds and on the partnership, Donald said: "We get along fine and we had a little light-hearted banter going.
"He asked when I was having my off-season and I said, 'Well, it was going to be this week. Thanks for playing the last two weeks'."
Simpson, who currently leads Donald by $363,029 (£229,724) in the money list going into the season finale, agreed.
"It was fun," said the 26-year-old American who has won twice on the US circuit in his last six starts. "We fed off each other a little bit and we had a good time.
"He has played great all year and we've played a lot together towards the end of the year, so I was comfortable and I'm sure he was as well," Simpson added.
If Donald wins the top prize of $846,000 (£535,347) Simpson would have to finish alone in second for $507,600 (£321,208) in runner-up money to deny the Briton the title.
Among the other big names competing this week, double US Open champion Retief Goosen of South Africa opened with a 68 while British world number 17 Justin Rose battled to a 75.