Tiger Woods has hot dog thrown at him at Frys.com Open
Last updated on .From the section Golf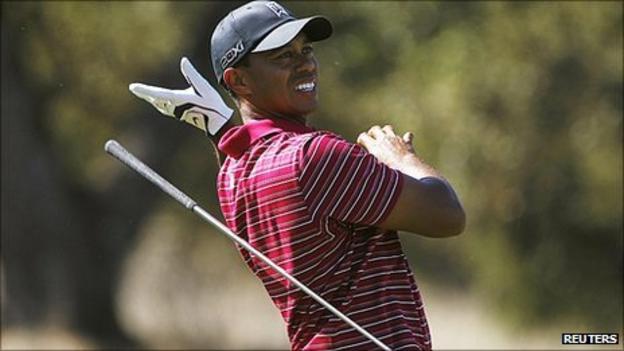 A tough 2011 season for Tiger Woods took a turn for the bizarre on Sunday when a spectator breached security at the Frys.com Open in California - to throw a hot dog in his direction.
Former world number one Woods, on his return to the PGA Tour after a two-month break, was lining up a putt at the seventh green when a man burst from the crowd shouting "Tiger, Tiger" and launched the projectile.
The hot-dog did not come close to reaching its target, and security defused the situation in seconds as the man promptly lay on the grass and surrendered.
Authorities did not name the man, although they said he appeared to be intoxicated and had been arrested.
"I guess he wanted to be in the news," said Woods, who went on to miss his birdie putt. "And I'm sure he will be."
Woods's playing partner Australian Rod Pampling described the incident as "bizarre", while Dan Diggins, the tournament's director of security, observed: "He's just an idiot," before adding: "It wasn't a chili dog - that could have been bad."
Woods, making his first start since missing the cut at the PGA Championship in August, notched his third straight three-under score of 68 to finish on seven under, 10 shots off winner Bryce Molder, who at the sixth extra hole.
"I was kind of focusing on my putt when he started yelling," Woods said. "Next thing I know he lay on the ground, and looked like he wanted to be arrested because he put his hands behind his back and turned his head.
"When I looked up, the hot dog was already in the air. He was pretty far away from me."
Woods is no stranger to heckles from the crowd since his return to competition in 2010 in the wake of a sex scandal, but it is thought this was the first time a spectator had got through the ropes to approach him.