US PGA: Bullish Tiger Woods expects nothing but victory

By Iain Carter
BBC golf correspondent in Atlanta
Last updated on .From the section Golf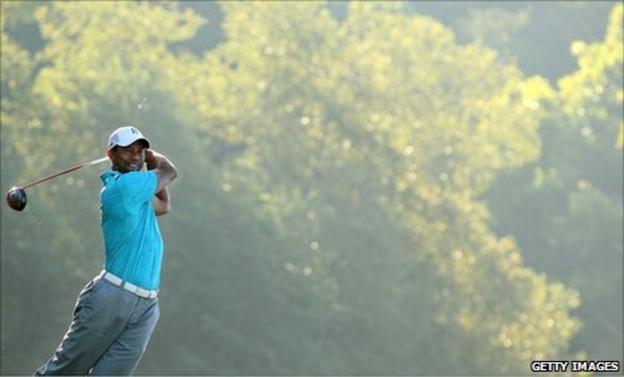 Tiger Woods heads into the US PGA believing he can lift the Wanamaker Trophy for the fifth time.
Woods last won the tournament in 2007 and is only one event into his comeback from a knee injury.
New caddie Byron Bell is also unfamiliar following the former world number one's high-profile sacking of Steve Williams last month.
But using his usual code for a win, Woods said: "I expect a 'w'. Want me to elaborate? A nice 'w'."
Woods, currently 30th in the rankings, has not won at any level since the 2009 Australian Masters.
But it is entirely in keeping for him to use his pre-tournament news conference as a vehicle to express the utmost confidence.
"Now that I'm healthy it's so much easier to be more patient because I feel good," Woods said.
"My feel is starting to come back. I've been away from the game for a while, but I'm starting to get the feel of hitting shots and how far the ball is going."
This was the first time Woods had spoken since his former caddie Steve Williams had shared in the victory of his new boss Adam Scott at the WGC Bridgestone Invitational in Akron last Sunday.
"I was happy to see Stevie and Adam win," Woods said. "I sent Stevie a nice text after completion of play congratulating him on his win. It was good to see them go out there and play as well as they did."
In a barely disguised dig at his former boss Williams subsequently described it as the greatest win of his career. Yesterday Woods' manager Mark Steinberg and Williams were seen in animated conversation in the Atlanta Athletic Club car park.
Woods admitted to being surprised that Williams, with whom he won 13 of his 14 majors to date, had spoken in such intemperate terms in the wake of Scott's victory.
"I'm not going to speculate on Steve. These are obviously his feelings and his emotions and his decision to say what he wants to say."
Of more concern to Woods heading into the final major of the year is his desire to contend.
"I can feel the atmosphere, I can feel the rush of a major championship again," he said.
"When you go into a major its just different. It's going to be fun."