Scottish golfer Knox aims to join Laird on PGA Tour
Last updated on .From the section Golf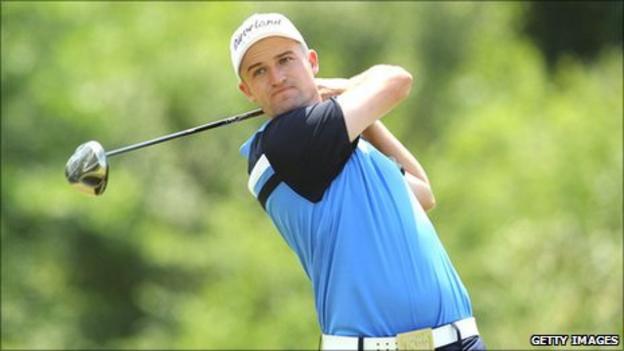 Russell Knox is in line to join fellow Scottish golfer Martin Laird on the PGA Tour in the United States next year.
The 26-year-old from Inverness won the Chiquita Classic to lift him to fifth in the Nationwide Tour and he needs a top-25 placing to earn a PGA Tour card.
Knox of Laird: "He has done absolutely amazing. If I could do half as well as he has done I would be quite happy.
"It would be nice to have two Scots on the PGA Tour next year."
Knox moved from the Highland capital to Florida's Jacksonville University and found that his golf soon surpassed his football ability.
He progressed to the Hooters Tour, the level below the Nationwide Tour, before making the leap and is now well placed to move to the top tier of American golf after his three-stroke Chiquita Classic win in Ohio.
"It really should change my life significantly," he told BBC Radio Scotland's The Golf Show.
"To win a nationwide event is like a dream come true for me.
"I tend to strike the ball fairly consistently so I knew if I could have a week when I holed some putts that I could contend.
"It seemed like everything I looked at on the greens went in the hole last week so it was nice to build the win.
"It put me on the right track to gain a PGA Tour card for next year and I could look back on that last week as the biggest in my life."
Knox has met Laird once before, when the pair were at a tournament, but he hopes that their paths will cross often next year.
He added: "It has been a great couple of years for my golfing career and I keep feeling that I am improving and it would be a dream come true to have a PGA Tour card in 2012."
Listen to The Golf Show, Sundays 1030-1100 BST on BBC Radio Scotland on 92-95 FM and 810 MW, online and on DAB. The latest edition of the programme is available on the BBC iPlayer.