Stormont cash backing boosts Portrush Tour event hopes
Last updated on .From the section Golf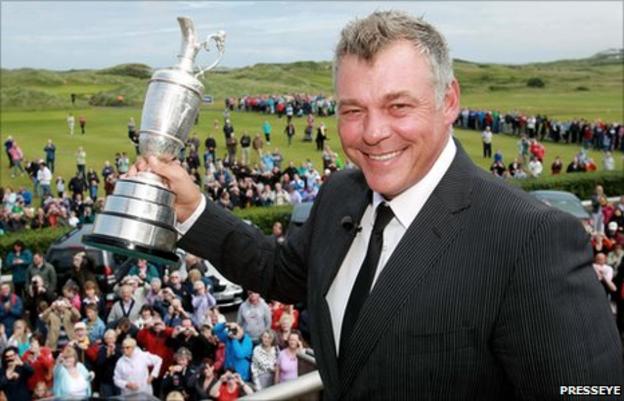 Moves to play a European Tour event at Royal Portrush have been boosted after the Stormont Executive said it would provide "substantial financial backing" for such a tournament.
Darren Clarke's Open win at Sandwich has led to renewed hopes that the major event could return to Northern Ireland for the first time since 1951.
However in the short-term, the Irish Open could move north as early as 2013.
Royal Portrush said that it had been given a "firm (funding) commitment".
"The DETI (Northern Ireland Department of Enterprise, Trade and Investment) has now given a firm commitment in terms of providing the substantial financial backing that is required and the European Tour has also strongly endorsed the move," said Royal Portrush captain Philip Tweedie.
"We are currently in talks with a number of additional potential sponsors from the private sector.
"We at Royal Portrush, are very much looking forward to working with all our partners to be able to host a major professional tournament that is worthy of the very high standards that have now been set by our three major champions."
Tourism Minister Arlene Foster said that the "time is now right to bring a major international golf tournament to Northern Ireland.
"This will showcase our golf tourism offering all over the world and provide a major boost to our local economy," added the minister.
"This will need a major commitment from Royal Portrush Golf Club, the European Tour, sponsors, the Northern Ireland Tourist Board, Tourism Ireland, Coleraine Borough Council and others.
"But I am confident that we will work well together to make this a world-class event."
Darren Clarke described Friday's announcement as a "great achievement for Royal Portrush Golf Club".
Royal and Ancient Club chief executive Peter Dawson admitted on Monday that Northern Ireland's three recent major wins had given fresh momentum to the calls for the Open to return to Portrush for the first time since Max Faulkner's 1951 triumph.
Clarke's memorable three-stroke win on Sunday saw the 42-year-old join Rory McIlroy and Graeme McDowell as players from Northern Ireland who have won majors in the last 13 months.
"We're all very aware of the fact that three winners from Northern Ireland increases the interest level in this," said Dawson.
"I don't want to start a hare running on this, other than we are going to take a closer look."
In order to run one of the smaller purse European Tour events, a figure of around £2.7m is required with around half that sum going on prize money.
The bigger European Tour events require an outlay in the region of £4.5m.