Scots struggle at Sandwich
By Liam McLeod
BBC Scotland at Royal St George's
Last updated on .From the section Golf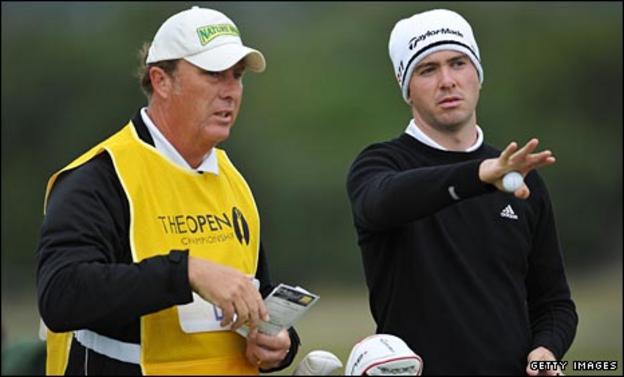 At around half past nine on the morning of the first round, one of my Irish colleagues turned round to us in the media centre and said: "I think you're going to have a big story here."
He was referring to the leaderboard, which at that time had Martin Laird jointly leading the Open.
The United States-based Scot was two under par at that stage having birdied the seventh and eighth holes of his first round.
Sadly, almost as soon as those words had left his mouth, Laird dropped two at the ninth. No luck of the Irish for the Arizona-based Glaswegian then.
Laird would finish two over par, a precarious score going into day two of the tournament.
After his round, it was that hole at the turn that would rankle with the 28-year-old.
"I made double bogey from the middle of the fairway and hit it out of bounds and shot two over," he said.
"If you take that into consideration, I played really well the other 16 holes.
"Nothing plays as hard as St Andrews last year, but it's tough out there and I stuck the ball well. I'm most pleased with how I controlled myself out there as I can get impatient.
"If I play the way I did today, tomorrow, it shouldn't be a problem. I feel like, even at two over around this course, it's not somewhere the scores are going to run away."
One thing that seemed to affect plenty of the golfing world's superstars was the weather. An exposed links course is never going to provide the best of a British summer.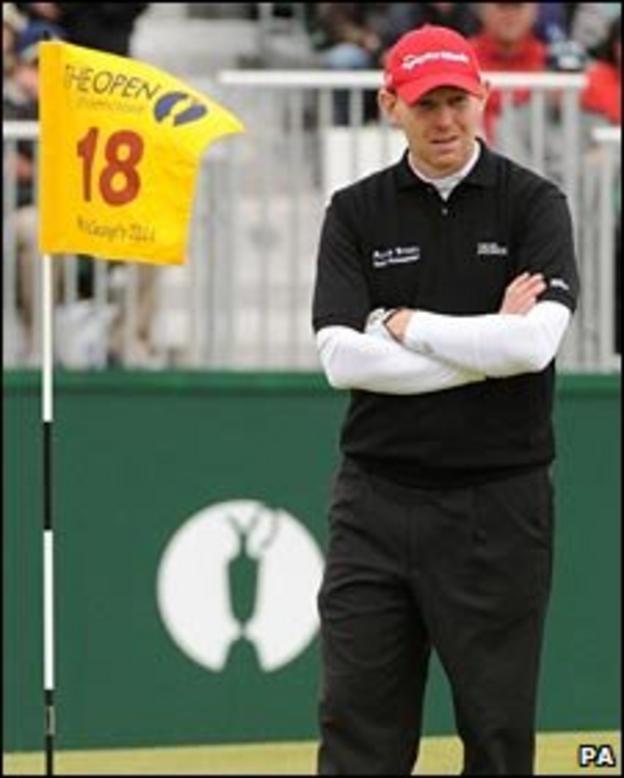 But Stephen Gallacher was left cursing the wind and rain that appeared to have followed him, and the rest of us, from the Scottish Open in Inverness.
"It was very cold, I'll tell you that - I had two jumpers on out there," he said after finishing level par for the day.
"But I'm happy with that. I didn't really do much wrong apart from a couple of loose shots on the front nine.
"It was the same kind of wind yesterday, so they moved a few tees up. But this course is just a proper links, it's old-fashioned.
"The back nine is tougher. You're really going into the wind there, so I was delighted with that."
Gallacher was joined on level par by Peter Whiteford, who was making his major championship debut at Royal St George's, and he summed his round up pretty well.
"It was a steady round, nothing really to write home about, but the experience was phenomenal and I'm looking forward to tomorrow," he told BBC Scotland.
"Playing here is what you've always want to do from a very young age, so I can't wait to pick it up on Friday even though it's going to be very cold and early in the morning.
"It was tough at the start because it was very windy and we got a wee bit of rain going up the second, so I thought 'here we go, it's going to be a nightmare' all day.
"I dropped one down the last, so it wasn't really a great finish, but just being here is great, so hopefully I can just play decent tomorrow and get myself a decent number."
Whiteford was correct about the conditions with the best of the week reported to greet those out early on Friday, Whiteford included.
For the other Scots, Paul Lawrie's three over par leaves him with plenty to do to make the cut and the same can be said for the 1985 Sandwich champion, Sandy Lyle, who had the same on his scorecard.
Scott Jamieson's dreams look to be over already after a five-over round of 75, but like Whiteford, the experience of tackling Royal St George's while it showed its teeth, will hold the promising debutant in good stead.