The Open 2011: Pundits' picks for Sandwich
Last updated on .From the section Golf
US Open champion Rory McIlroy may be the bookies' favourite to win the Open - which starts at Royal St George's on Thursday - but do some of the leading names gathered on the Sandwich links agree?
Ken Brown, BBC golf commentator
Winner: You would have to go for the world number one Luke Donald. He's coming in with confidence, he's hardly been out of the top 10 in the last 12 months, he's got the perfect game for links golf, he's a perfect competitor, calm and won't get flustered and has the experience to know how to stick in there.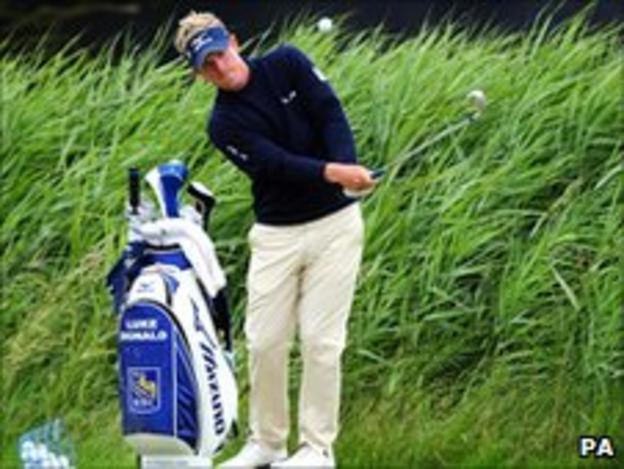 He should be up there at end of the week as long as he hasn't run out of puff after winning in Scotland last week. But he doesn't seem to have wasted a lot of energy doing anything, though that can be very deceiving.
Big week: I've got a funny feeling about Matteo Manassero. I think he's got something a bit special. He's ducking under the radar slightly. I'm not sure how well he knows links golf and he's not that old so hasn't been around long enough to learn that much but I wouldn't be surprised if he is in the mix at the weekend. He's got a good stroke, he's neat and tidy and has got wonderful touch.
Andrew Cotter, BBC golf commentator
Winner: Any one of 80 players can win because there are going to be a few unlucky bounces and people will get frustrated. The weather forecast isn't great and it will be windy. The winner will need to putt well and have a great short game. So everything points to Luke Donald. I know he won last week and people say you don't usually win the week before and go on to win a major but he's still my pick. It's a second-shot golf course, he's just about the purest player out there and if he does miss a green, which you're going to, he's fantastic getting up and down. It suits him perfectly. On the Rory McIlroy front, if he finishes in the top 10 that's a very, very impressive week, with all he's had to put up with for the last three weeks. I'm still not sure his game is designed for this type of golf.
Big week: KJ Choi. He's having a good season, is a very patient man and has been playing well on the PGA Tour. He's also done well in the Open before - top 10 at Carnoustie. I'd like to stick my neck out for Padraig Harrington and Retief Goosen. Harrington just a hunch, based on little more than that and the fact that he seems to be coming good about the right time and this course, this tournament, is good for him. Not too punishing wide of the fairway. Goosen is also hitting some form and his Open record is great, including fifth and sixth the last two years. He also finished tied 10th last time the Open was here.
Kevin Garside, Daily Telegraph
Winner: I'll vote with my heart and go for Lee Westwood on the grounds that the world rankings have got to come home at some point and deliver a major. You can't be in the top two of the world rankings and also finish in the top three in five of the last seven majors - he needs a break. I like the fella, I want him to win and as we know, he's got the game to win.
Big week: That's a little bit more tricky. I'd like to say someone like Rickie Fowler. He's not won a tournament yet but he wouldn't be the first American to come over here and break his duck in a major. He's great for the game, he's a young lad, he's flamboyant, he's a ticket-seller and that's what golf needs. If he has a big week he raises the game's profile as well as his own.
Andrew Coltart, Tour pro and BBC golf pundit
Winner: Graeme McDowell. He's starting to play well again and I just like that.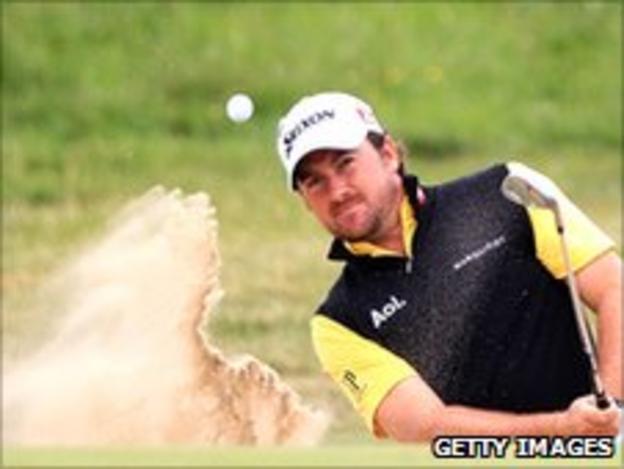 He's got all the shots, he's great in the wind, he grew up at Royal Portrush, he knows what this is all about, he's a major champion so he can handle that.
My slight concern is him throwing a bit of a wobbly somewhere in the round.
Big week: Someone who grew up near here, Brian Davis. He played last time the Open was here and was reasonably well placed, so he knows the course and knows how to get round here.
Iain Carter, BBC 5 live golf correspondent
Winner: The Open is called the Open for a reason and we saw that the last time it was here at Sandwich but my feeling is that there is a progression in process - third, second and now first for Lee Westwood.
Big week: The amateur Tom Lewis. I can see him being the Justin Rose or Chris Wood of this Open and he could have a very high finish. He won the British Boys' Championship around this course, he won at St Andrews this year, he qualified and is full of confidence. He's an outstanding prospect who I expect to do extremely well.
Stephen Watson, BBC Northern Ireland
Winner: Genuinely, I'm going to pick Graeme McDowell. Yes, it comes with a bit of heart thrown in, obviously, but he has been playing really, really well, just not putting four rounds together. In Scotland it almost went right for him apart from one hole and he's been like that for the last few months. I watched him here on Monday and he's hitting the ball absolutely superbly. He's at home on links courses, big time, and has been practising hard on his links golf as well.
Big week: I don't want to be completely parochial but Padraig Harrington. I know he has been struggling with his game recently but he's still got what it takes to put together four rounds in a major and he has been almost forgotten about, given what the other Irish golfers have done. I hate to be picking Irish all the time but I genuinely think he's going to have a good week.
Neil McLeman, Daily Mirror
Winner: Graeme McDowell. He's a proven links player and good in the wind which will be useful this week. And after being US Open champion he's got his game and head back together.
Big week: A good each-way bet is definitely Lee Westwood. Whether he wins or not is another thing, but he will definitely be there or thereabouts. He's in great nick and should definitely finish in the top five. Whether he can actually close the deal we're waiting to see but he will be a contender.
Graham Royden, Head Greenkeeper, Royal St George's
Winner: Graeme McDowell. The course slightly favours a right-to-left shot on six or seven holes. He's got the course management and that's certainly the key to Royal St George's so you can be in the right position to attack. Having spoken to him last week he's very much in the zone. And he's a lovely guy who you feel you can sit down for a Guinness with at the end.
Big week: It's got to be Rory McIlroy. He's obviously in great form, he's used to playing links golf in the wind and he will be there or thereabouts.
Andrew Brooks, Head professional, Royal St George's
Winner: Rory McIlroy. He's a very confident young man and obviously playing very well. He got all the TV and media stuff out of the way after the US Open and has been back home in Ireland chilling out and recharging his batteries. He likes the course and has played here before. I do remember him playing in the Walker Cup when all the Irish boys were talking about a great young player in their team and they were absolutely correct.
Big week: Lee Westwood tied with Luke Donald. Both manage their games well and this is a place for strong course management.
Jock Howard, Golf World
Winner: Lee Westwood has gone third and second in the last two Opens, he loves the course, I think he's in the right place. I like the way he played last week and I think he'll be right there.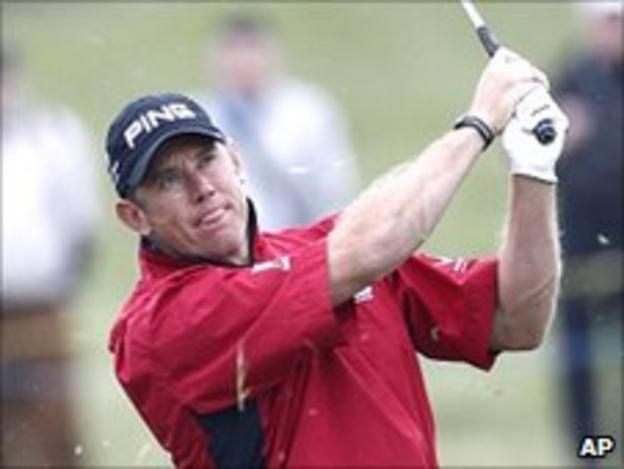 Big week: Jeff Overton. He's a big outsider at 140-1 but I watched him with Phil Mickelson and Rickie Fowler and he was comfortably the best player, fizzing his hybrids under the wind. He's got the game to do really well and St George's can be a place for outsiders. I've also put money on Ian Poulter. It's a real course for scramblers and he led scrambling for a lot of last year. If anyone will get up and down he's the man. The only caveat is that he hates the place. So he's got to get his head around that to be successful.
Derek Lawrenson, Daily Mail
Winner: Lee Westwood. Surely something will go right for him at the end in a major at some point. Someone will go out of bounds, or will miss a putt or he will hole a huge one or chip in. Surely that little bounce of fate will go his way.
Big week: I've got a sneaky fancy for Sergio Garcia and Peter Hanson. Both are great ball-strikers and I don't think putting will be that important if the winds blows. Ball-striking will be more important and they're both top drawer.
John Garrity, Sports Illustrated
Winner: When I decide on someone I tend to stick with them for five or 10 years and once Rory McIlroy won at Congressional he became my pick. He's challenged or done something spectacular in the last four or five majors. No-one's been anywhere near as consistent so I'll pick Rory until he's no longer in the field.
Big week: Robert Karlsson. Before McIlroy came along he was my pick. He has performed well in a number of majors in the past, he's a solid international player and I sort of expect him to break through in one of these events and it could be here as well as anywhere else.
Rob Hodgetts, BBC Sport website
Winner: Luke Donald ticks all the boxes but I've just got a feeling this is the sort of place that the box will then be turned upside down and given a good shaking by the wind. So I actually reckon there'll be another left-field winner which means that I've got at least 130 to choose from. Which is nice. But given that, I'm going to narrow it down to Retief Goosen. Despite his seemingly disinterested demeanour he's proved there is fire in his belly and that he's not afraid to win a major. He has a good record in the Open and could be the best at shrugging off everything the course and weather will throw up over the four days.
Big week: There is something about Sergio Garcia at the moment. He's creeping back into form after that big slump and he has gone very close before. As long as he steers clear of the lemon outfit he chose for the final round in Hoylake in 2006, the smiling Sergio of Ryder Cup days could re-emerge from under the scowl that currently casts a shadow. The crowd would also be right behind him.