Noel Fox lauds Galgorm NI EuroPro Open tournament
Last updated on .From the section Golf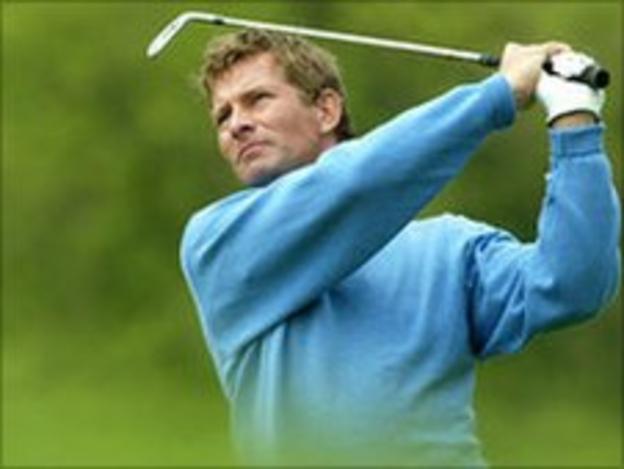 Former Walker Cup player Noel Fox is looking forward to his trip to Galgorm Castle later this month for the Northern Ireland PGA EuroPro Open.
Last year's inaugural event at the Ballymena club attracted a crowd of over 2,000 on the final day.
"The tented village and buzz around the clubhouse ensured a great atmosphere," said the 38-year-old.
"The 2,000 crowd was a lot more than you would get at some Challenge and European Tour events."
Fox, a former EuroPro Tour order of merit winner added:"Some of the guys that played last year still rave about the event and how well it was run.
"An event on the scale Galgorm put on reminds players that it's their job to compete in front of crowds and deal with the pressure.
"It gives the players a buzz and shows spectators the high standard of golf on this developmental tour.
"The guys that missed it last year will definitely be travelling.
"We have a nice event in Birhill near Wentworth then Bovey Castle and another up in Newcastle which brings us up to the Galgorm event."
The 54-hole Galgorm event gets underway from Wednesday, 29 June to July 1 with official practice and the George Best Invitational Pro-am to take place earlier in the week.
After Galgorm the tour moves onto Fota Island in Cork and Fox admits to a certain bias when he describes the two Irish venues are the "best courses we will play on this season".
The Dubliner is one of many Irish professionals on the circuit alongside players such as Paul O'Hanlon, Tim Rice and Michael Lavelle to name but a few.
"You can't put a value on getting onto the likes of the EuroPro and gaining experience and a taste for what it's like at the next level," adds Fox.
"It's not cheap to play (£275 entry per tournament) but it disciplines and teaches you, especially as the prize money is top heavy," adds Fox, noting the £40,000 prize purse with £10,000 for the winner.
"The ultimate goal for all of us is to get onto the main European Tour. When you get the opportunity to play in these top events it makes you want it more and more."
Ahead of this year's PGA EuroPro event, Galgorm, under the guidance of head greenkeeper David Snoddy, have upgraded the course by constructing new tee boxes at the par-five 10th and the short seventh over water.
Snoddy's team have also added new bunkering on the 18th to provide a sterner finish.