Tiger Woods to miss US Open because of injury
Last updated on .From the section Golf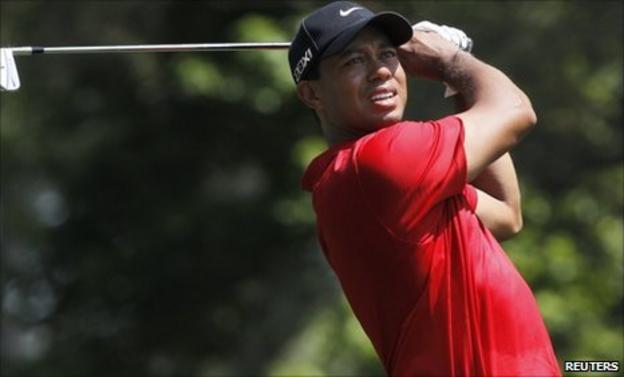 Tiger Woods has revealed he will miss next week's US Open because of injury.
The former world number one suffered a sprain to his left knee and mild strain to his left Achilles tendon during the third round of the Masters in April.
"I am extremely disappointed I won't be playing in the US Open [16-19 June]," Woods, 35, stated on his website.
"But it's time for me to listen to my doctors and focus on the future. I was hopeful I could play but, if I did, I risk further damage to my left leg."
Woods, who has played in every US Open since 1994, sustained the injuries when he hit his second shot from under the Eisenhower tree at the 17th at Augusta.
He consequently missed the Wells Fargo Championship and withdrew after nine holes during the first round at the Players Championship after injuring his leg again on his opening tee shot.
Woods, who has been wearing a protective boot in an attempt to aid his recovery, has been dogged by injuries for three years. The American added his 14th and last major when he beat Rocco Mediate in a play-off at the 2008 US Open.
Following that epic win, Woods revealed he had a double stress fracture in his left tibia and also added that he had been playing for almost a year with a torn ligament in his left knee. He subsequently had surgery and missed the next eight months, including the Open and PGA Championship of 2008.
The Californian then had another lay-off after his serial infidelity became public knowledge in November 2009. The following year he came fourth in both the Masters and US Open and was also tied for the lead at the turn in the final round of this year's Masters before slipping backing to fourth.
Woods has been working on a revamp of his swing under new coach Sean Foley after his tutor of six years Hank Haney resigned in May 2010. But he he has dropped down to 15th in the world rankings and is without a win since claiming the Australian Masters in November 2009.
"It's been a frustrating and difficult year, but I'm committed to my long-term health," added Woods, who is hopeful of returning for the AT&T National, which starts on 30 June, as well as the Open at Royal St George's in Kent from 14-17 July.
"I want to thank the fans for their encouragement and support. I am truly grateful and will be back playing when I can."
Defending US Open champion Graeme McDowell said he was surprised by the withdrawal of Woods.
"To not have one of the greatest players that have ever lived [at the US Open] is massive," the Northern Ireland golfer told Sky Sports News.
"Golf needs Tiger Woods. He's been golf for the last 15 years. His mental health is one question, his physical health is another. We'll hope he'll be back, but no one knows."
This week Woods also announced that he will be staying with his long-term agent Mark Steinberg, who announced his departure from sports agency IMG two weeks ago.