Graeme McDowell targeting Wales Open double
By Peter Shuttleworth
BBC Sport Wales at the Celtic Manor
Last updated on .From the section Golf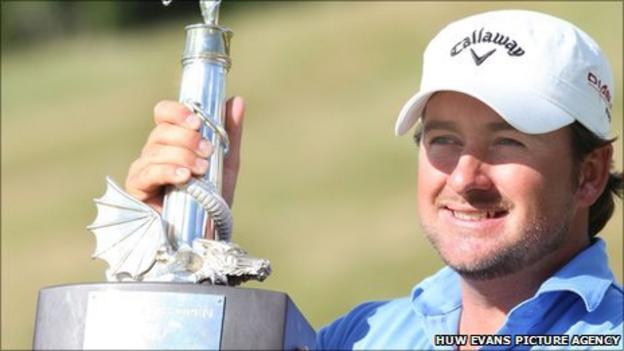 Graeme McDowell hopes a return to where his greatest year began can inspire him to become the first player to defend the Wales Open title.
McDowell says his triumph last June was the "catalyst" for his US Open victory and Ryder Cup heroics at Celtic Manor.
The Northern Irishman will on Thursday become the highest ranked golfer to ever play in the Wales Open.
"The experiences I had here in 2010 are great memories that I'll cherish forever," said the world number five.
McDowell's form was rejuvenated when he beat Wales's Rhys Davies by three shots to win the Celtic Manor trophy on the Twenty Ten course last year.
The Northern Irishman's fifth career victory - and first title since the 2008 Scottish Open - was instantly followed up by a memorable first major triumph when he became Europe's first US Open winner for 40 years when he won at Pebble Beach by one shot.
McDowell's stellar year reached even greater highs at Celtic Manor in October when he birdied the 16th and held his nerve on the 17th against American Hunter Mahan to seal Ryder Cup victory for Europe in the final singles match.
The 31-year-old will be joined by 2010 Ryder Cup team-mate Peter Hanson, who helped Europe beat the United States 14½ to 13½, and home hope Jamie Donaldson when he tees-off at 0815 BST on Thursday.
"The Wales Open was certainly the catalyst for my 2010," said McDowell, who considers himself an "adopted Welshman" having lived near Cardiff.
"And I'm arriving back this year probably having a better season, ironically. I've had three top-10 finishes this year as opposed to maybe one or two last year.
"I probably played some of the best golf I've ever played here on the last weekend last year to shoot 64 and 63 to win.
"I took a huge amount of confidence away from this tournament and went from strength-to-strength at Pebble Beach and won there.
"The Ryder Cup was something special and it is great to come back to the clubhouse and see the pictures, the memorabilia in the locker room and the lockers with our Ryder Cup names tags.
"It is great to be back at the scene of the crime and, if nothing else, I'll certainly gather some great thoughts and inspirations from the week.
"I'm biased towards this golf course now so it is one of favourites. I'm certainly looking forward to playing the course that was so good to me last year.
"As we walk around myself and my caddie will probably reminisce a little bit as to some of the feelings, replay the shots and the great experiences we had on this golf course both last June and last October. It is a special place for me and always will be.
"We recreated the Ryder Cup putt on 16 the other day which was pretty fun. And watching the footage of my putt at the 16th made me feel pretty emotional."
McDowell has enjoyed top-10 finishes at the Abu Dhabi Championship, the WGC Match Play and the World Match Play this year.
But he says he must "focus" on the future rather than the past as he plans his US Open defence at the Congressional in Maryland, starting on 16 June.
"I've had demands on my time and having to keep remembering what happened last year," said McDowell.
"These are great memories that I'll never want to forget but sometimes it is very hard to focus on what it is you're trying to do this week.
"You maybe get pulled away from your focus and preparation but I must switch back. We're not in 2010 anymore.
"I want to get this week out of the way and going to Congressional and doing the whole defending my US Open title.
"I think once that's out of the way, whatever happens at Congressional, it will be a mental weight lifted off my shoulders.
"Hopefully I'll be US Open champion again. But certainly I'll be able to put the last 12 months behind me and learn from them."