Janice Moodie relishing return to golf
Last updated on .From the section Golf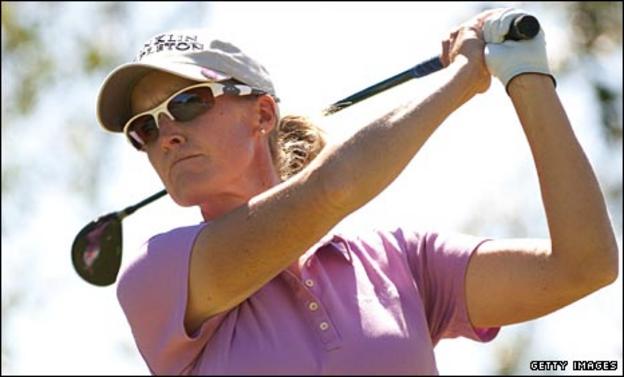 Scotland's Janice Moodie says she has returned to golf with renewed ambition and enthusiasm after giving birth to her second child.
"I think when you take quite a bit of time away from it and then try to build yourself back up again, the juices get flowing again," she told BBC Scotland.
"You start having the dreams about golf. When you're playing it all the time, it gets a little bit monotonous.
"But now that bug is a little bit back, so I am looking forward to it."
The Glasgow-born 37-year-old will play at the ShopRite LPGA Classic, the scene of her maiden tour victory in 2000.
"Matthew John Carneval, that's my married name, was born on the 23rd of March. He is doing really, really well and eating up a storm," she told BBC Radio Scotland's Golf Show.
"I actually went to try to qualify for the US Women's Open after having given birth seven weeks prior, but 36 holes got me and I bogeyed the last and then lost in a play-off.
"You never know, I might get in. But the juices are definitely flowing again.
"I actually leave on Monday. I am going to play in the Shoprite Classic in New Jersey, which will be a lot of fun. And I am going to be taking Craig and Matt down with me.
"And I've got Claire McNeill, who's a very good golfer back home, as well and she is going to be helping me for a little while."
Florida-based Moodie represented Great Britain and Ireland in the Curtis Cup before playing most of her golf in the USA after enrolling at San Jose State University.
She has had four tournament wins, two in the USA, but the closest she has come to a victory in a major was second place at the Kraft Nabisco Championship in 2001.
That year, Moodie also finished third at the Women's British Open and will return to her homeland to compete at Carnoustie in July, thanks to an invitation from the Ladies' Golf Union.
"I am thrilled to say I will definitely be there," she added.
"I was always the inland golfer, so coming back and playing links golf is very difficult for me as it was just something that I was never brought up with.
"But I absolutely love coming back home and can't wait to battle it out.
"You do miss hitting balls and playing golf. Hitting balls and playing golf is a bit of a therapy for me. It gives you relief from the kids."