Tiger Woods to miss Quail Hollow event with injury
Last updated on .From the section Golf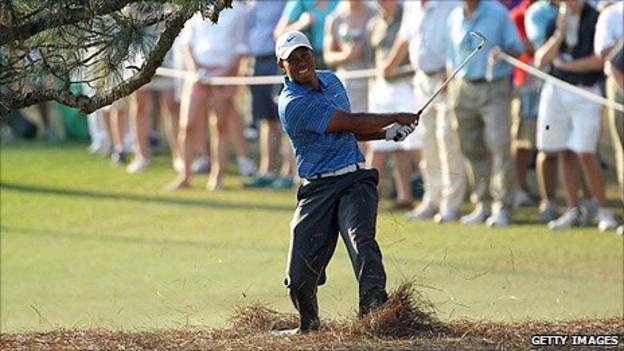 Tiger Woods has pulled out of the Wells Fargo Championship (5-8 May) because of minor ligament and tendon injuries.
The 14-time major winner was injured hitting an awkward second shot at the 17th during the third round of the Masters.
He has a mild medial collateral ligament sprain in his left knee and a mild left Achilles tendon strain.
Any setback in his recovery could affect his participation in The Players Championship (12-15 May).
The tournament at Sawgrass, Ponte Vedra Beach, Florida, is regarded as golf's unofficial fifth major.
Woods, the former world number one who is currently sixth in the rankings, said he was sorry to miss next week's event at Quail Hollow in North Carolina.
"I personally contacted tournament officials and expressed my regret in not being able to play," he said on his official website.
"This is an outstanding event, but I must follow doctors' orders to get better."
Woods, who has not hit a shot since the Masters, has been advised to rest and use cold water therapy, with soft tissue treatment to follow later this week. He is also wearing a protective boot to move around.
There is no definitive time frame for Woods to return to action.
"This is precautionary. We're not at all concerned," said Mark Steinberg, his agent at International Management Group. "He's just listening to his doctors, which is kind of nice. He certainly didn't listen to them before the US Open in 2008."
Steinberg said there was a "reasonable chance" Woods, who held a series of golf clinics in Asia the week after the Masters, will be at The Players Championship.
"We'll do the same next week, do an early to midweek test to see if it's good enough where he can be hitting the ball," he said.
Despite being injured at Augusta, the 35-year-old fired himself into contention on the final day, sharing the lead on the back nine, before finishing in a tie for fourth.
Woods won the last of his major titles at the 2008 US Open and has not won a tournament since the Australian Masters in 2009.
Shortly after he became embroiled in a sex scandal that forced him to take five months out of the game and led to divorce.
Woods's health is becoming a possible barrier in his pursuit of Jack Nicklaus's record of 18 major titles.
He has had four operations on his left knee, most recently after that Torrey Pines US Open win in 2008, after which he spent eight months out of the game recovering.
On his return from scandal in 2010, he also revealed he had ruptured the Achilles in his right leg in December 2008.