Graeme McDowell prepares for Masters challenge
By John Haughey
BBC Sport NI
Last updated on .From the section Golf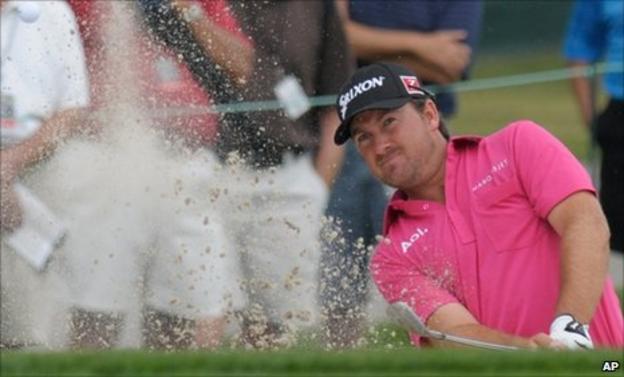 Graeme McDowell says he can contend at next week's Masters providing he can get a grip on a long game which has hindered him over the past month.
"All of a sudden my long game has gone a little off the boil," said McDowell.
"But if I can get myself in contention at the weekend, I know I have the ability to do the job."
After struggles around the greens led to a missed cut at last year's Masters, McDowell vowed to improve his short game ahead of the 2011 event.
"I've worked so hard on my short game and largely got that sorted but then started to have some trouble with the long game.
"But after Bay Hill, I had the Saturday off and worked pretty hard on the Sunday and the Monday and then went to Augusta on Tuesday and hit the ball much better there."
McDowell headed to Augusta from his Florida base by private jet early on Tuesday morning with Ian Poulter and Henrik Stenson.
"Myself and Ian also took our Dads with us and we had a great day.
"In terms of the short game, it was a kind of a waste of time because the course wasn't really up to tournament speed but the day was a bit of a reconnaissance mission and reminding yourself of the shape of the grain and the way the place plays.
"We played 18 holes and after a club sandwich went out for another nine."
McDowell recalls a "deer in the headlights experience" Masters debut in 2005 when Ben Crenshaw's artistry on the greens showed him how much he had to learn about the imposing Georgia venue.
"I remember feeling very lost on the greens," added McDowell, whose best Masters finish is his 17th from 2009.
"All in all, my memories of Augusta (from three visits) so far are not particularly outstanding.
"Last year, I didn't have the confidence around the greens but I've been working hard on my short game this year and I like what I saw on Tuesday.
"I feel like my short game is getting to the point where I can go in with a bit of confidence.
"In the past, I've been a little scared to miss greens in the wrong place. I really wasn't sure whether I had the short-game skills to get the ball into a position, where I could make bogey but I feel like I'm learning all the time."
McDowell insists that having a major under his belt won't lead to any added pressure at this year's Masters.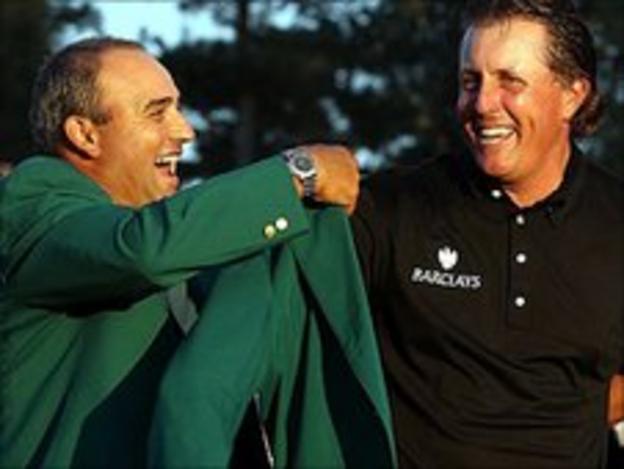 "I'm going into Augusta very relaxed and with zero expectations.
"I'm really trying to enjoy the week and play the golf course as well as I can.
"I know if I play my best, I've got a chance."
More by accident than design, McDowell's recent swing troubles could even turn out to be a blessing in disguise in Georgia.
McDowell's ball flight has developed into a draw in recent weeks as some "old swing faults" have threatened to return but the right to left shape tends to suit the Masters venue.
"My natural shape is back to being a four or five yard draw off the tee. This time last year it was a four or five yard cut.
"I was a little bit worried about the tee shots at two, 10 and 13 but having played them on Tuesday, I can hit the draw off those tees with my normal shot.
"My backswing is is probably not as good as it was last year in terms of keeping club neutral/open.
"I've always had a tendency to get a little bit closed on the way back."
As regards other contenders, McDowell is tipping his Northern Irish compatriot Rory McIlroy, Bubba Watson and defending champion Phil Mickelson to challenge strongly.
"I honestly believe Rory is ready for a big week.
"He drives the ball unbelievably which is key. If he can get hot with the putter, I think he will have a great week.
"I played with Bubba at Bay Hill last week and he impressed the hell out of me.
"He's moving the ball from left to right and drives it so well and I think Augusta really suits left handers.
"And if I was to pick one of the big guns, Mickelson looks like his game is simmering nicely.
"He prepares so well for the major championships and was there on Tuesday with (his short game coach) Dave Pelz working on the greens.
"Phil will come as well prepared as anyone."