Winter weather: How to keep motivated to stay active during a cold snap
Last updated on .From the section Get Inspired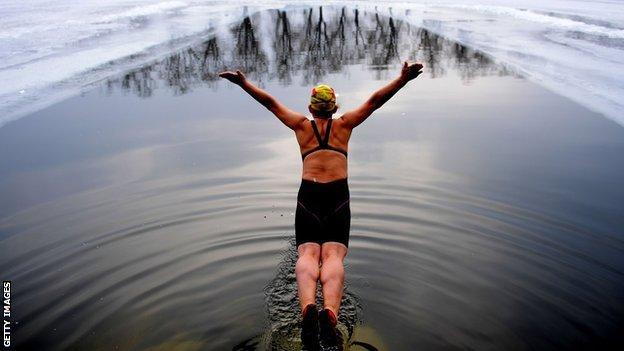 So, it looks like winter is properly getting its act together as the country braces itself for a cold snap.
Last year, the infamous 'Beast from the East' hit hard in February and March and more than a quarter (28%) of people did less sport and physical activity, according to a survey for Sport England.
But never fear, they've come up with some top tips on how to keep motivated to stay active on cold days.
1. Think of exercise as 'me time'
Doing something physical can boost your self-esteem and clear your head.
Think of exercise as a moment to yourself to get some headspace while looking after your body, and it might just make you more motivated to do it.
If you're just starting out and currently do little or no activity, the gains will be greater.
2. Exercise with others
You're more likely to keep up regular exercise if you're enjoying it - and what better way than with an exercise buddy?
Working out with friends or a group means you can motivate each other (and it's harder to cancel if someone's counting on you).
3. Enjoy nature and scenery
Being outside can be good for our health and happiness.
If you make exercise your one reason for getting outside - maybe a brisk walk or jog in the local park or countryside - you can connect to nature and get a change of scenery.
4. Get fully equipped
It is safe to exercise in the extreme cold as long as you've got the right kit on:
Wear layers.

Don't forget to protect your head (hat), hands (gloves), neck (lightweight scarf).

Get a lightweight, waterproof jacket.

Wear trainers with a good grip.

Pop on a high-vis vest if the light is poor (unless your jacket/kit is already fluorescent).
Just keep an eye out for hazards and know that you'll always be warmed up by the end of a workout.
5. Switch it up
If the thought of getting changed and heading out is still too much - try something indoors.
There are lots of cheap or free indoor activities that can be done come rain or shine. Use it as an excuse to try something fun.
The Team GB workouts or one of the many free routines on social media are good places to start.
6. Set small and achievable goals
Having a goal to aim for is one of the biggest motivators.
It doesn't have to be a big challenge like a race or event, it could be going for a walk at lunchtime every day for a month, or doing a workout video once a week.
GoodGym, which links runners with isolated older people who need help with tasks or just someone to talk to, is another option.
It doesn't need to take up more than 20 minutes of your time each week and you'll be more likely to go in bad weather if you know someone's looking forward to seeing you.
7. Reward yourself
Positive rewards are an important part of building new habits.
If you've put in the effort through exercise, why not treat yourself to a little bit of something you like?
8. It's OK to stop
Sometimes, exercising in winter can feel harder.
Remember it's OK to take a break, it's OK to walk, or sit down, or have some time off exercising altogether. Just have another go when you're ready.


If you'd like to try a new sport but aren't sure where to start, check out these guides.