GoodGym: How to do good in your community, get fit & make new friends
By James Alder
GoodGym runner
Last updated on .From the section Get Inspired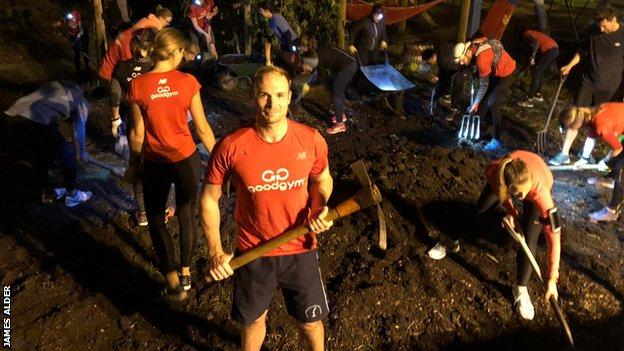 James Alder joined GoodGym, a group of runners who combine doing good in their local community with exercising, as a way of getting fit and making friends in a new city.
Having come across GoodGym via a radio piece on the charity, the combination of structured exercise and contributing to community projects was an obvious fit for my life at the time. As a mature student in Sheffield, I leapt at the chance to immerse myself in my new surroundings and get to know the city better.
It was a cold and miserable evening in Sheffield. February beckoned with a chilling sideways rain that pervaded within seconds of leaving the house. Arriving at the local cinema where the group met, I was welcomed into the group by Sheffield's run leader, Tom.
The activity that night was called 'plogging' - a litter picking run focussing on green areas around the city's rail station. The hardy group soon set off after a warm-up, which was token at best given the conditions.
Immediately, I was struck by people's desire to do a good job. Picking up pieces of litter, going home knowing they'd done their best to make their city a bit cleaner. Dashing around in rubber gloves and anything warm, we set about making sure one of Europe's greenest cities retained that accolade.
'Making a difference'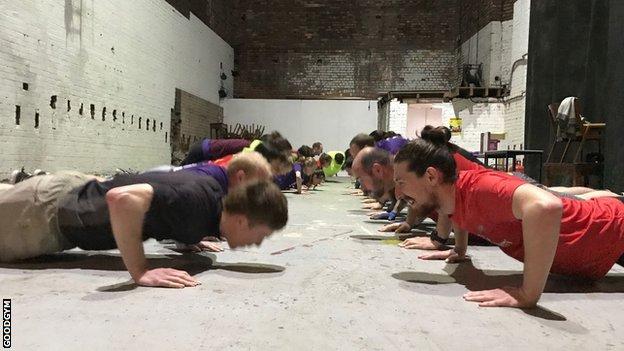 Of course, joining GoodGym isn't entirely altruistic. Retiring to the warmth knowing you may have made a tangible difference to someone or something feels good, but so does improving your fitness in a friendly environment and making like-minded friends.
However, if you're going to run, why not contribute to your community at the same time? Returning to the same projects on a three to four week cycle, over time you see the difference made to the projects GoodGym works with.
For those able to devote more time, there is the option to combine your running with regular visits to an elderly person, thus tackling loneliness whilst undoubtedly enriching your life as well.
'No one gets left behind'
GoodGym gives you the tools (both literal and metaphorical) to muck in and make your town or city a cleaner more vibrant place. If you already exercise, or need that extra nudge to get out once a week, I couldn't recommend it highly enough.
With the runs ranging from 5-10K, with back markers ensuring no one gets left behind, those of all abilities will get something out of the fitness aspect of the project. Without GoodGym, I would never have completed a two-minute plank inside a newly renovated Georgian cinema, a unique experience.
If you're looking for new experiences, or you're in a new town or city - it's something you should try to fit in to your week. The environment and people will make you want to come back, and the satisfaction of seeing a project like the aforementioned 1920s cinema slowly come back to life will ensure you do.
Find out ways in which you can get into running with this BBC Get Inspired guide.