Great Scottish Run: Running transformation taking Gail Tennant to the Glasgow 10K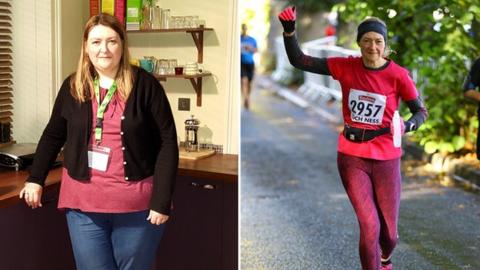 This year's Great Scottish Run will not be Gail Tennant's first 10K but it's another stepping stone on her remarkable running journey.
"Until now I've always been overweight - through school/adult life," explains Gail.
"I've tried all different diets - I could manage to get three stones off but not sustain it.
"I've joined five or six gyms over the years but nothing could sustain my interest."
A new mindset
So what changed?
It was a meeting with a friend who was running her first marathon and feeling very good about herself, recalls Gail, who was 22 stone at the time.
"She said to me to try the Couch to 5K app. I poo poo'd it, but it never occurred to her that I couldn't do it.
"I gave it a try - dabbled with it for a while. It helped get 15 pounds off on my own."
But it was when Gail decided to join a local slimming club as well that something clicked and the combination of the two set her on a new path.
"Running came first. The controlling weight is to support the running. Before I was just doing weight loss - and running helps your mental health," says Gail, who was patient but persistent from the outset.
"I was repeating Couch to 5K weeks because I was carrying so much weight. It was probably six weeks before I moved up to the next stage.
"I booked my first 5K before I could run that distance. When I did that one I could run for three minutes and walk for a minute and a half.
"It was about a year and a half before I could do 5K without stopping."
Onwards and upwards
And Gail has just kept going forward from there.
"I was 17 and a half stone when I did my first half marathon," says the mother of two.
"There's a perception that you have to run the full distance before you attempt them - but it's not like that at all."
Next she started using wearable tracking devices that monitored her speed and distance.
"I could see myself getting better," she says.
"It might only be seconds I was taking off times - but that was enough."
And Gail credits her fellow runners for supporting her throughout.
"The running community is very inclusive - there's no snobbery and they're very encouraging," she says.
"It took me a long time to pluck up the courage to join a running club - because I thought I wouldn't be able to keep up - but that's given me a lot of confidence."
Gail keeps motivated by always having a race on the horizon.
She's already signed up for a half marathon in the Highlands, a night run in Falkirk and aims to do the Stirling Marathon if she doesn't manage to get into London.
"The finish lines at races - there's no feeling like it," she says.
Family fitness
Gail's transformation of lifestyle has affected those around her.
Her 15-year-old daughter, Holly, started at Parkruns in September 2017.
The two of them go out running at least twice a week, whether it's to the Jog Scotland group or for some hill or sprint training.
And Gail will be supporting Holly in Glasgow on Sunday, 30 September as she undertakes her first 10K.
So why does Gail love the Great Scottish Run so much?
"Because it's the most inclusive - there's no pressure time wise," she replies.
Giving back
Because of the journey she has had in running, Gail has recently become a Jog Scotland Jog leader.
"I'm trying to give back and inspire people that they can do it," she says.
"Any struggles people are having, I can give encouragement and tips on how I've got through them.
"A lot of people are surprised - they think that I'd run my whole life."
Opening doors
And her new regime has led to so much more for Gail.
"It's opened so many doors, activity wise," she says. "I wouldn't go to any theme parks because I couldn't go on anything."
It was the same with going to pantomimes or getting into plane seats, she explains, but: "I don't think twice now.
"I've had to re-educate myself. I'm learning to think the new way - I can do anything I want."