London Otters Rowing Club: 'How I went from beginner to winning bronze at the Gay Games'
By Nick Coveney
London Otters Rowing Club
Last updated on .From the section Get Inspired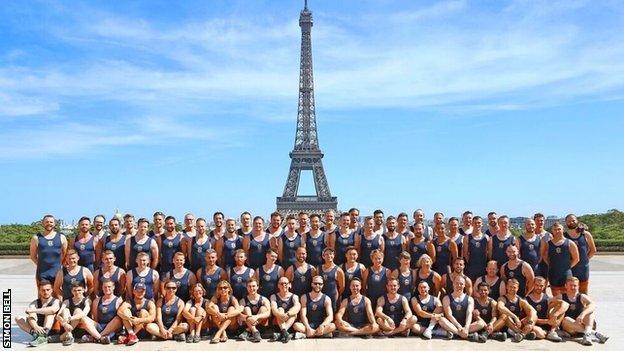 Earlier this summer, Nick Coveney told BBC Get Inspired how he went from hating football to playing for a Lesbian, Gay, Bisexual, Trans, Queer and others inclusive team formally affiliated to Charlton Athletic.
Now, Nick shares the story of how he and others took part in the Gay Games in Paris for the LGBTQ+ inclusive London Otters Rowing Club.
After joining Charlton Invicta in 2017 and gaining confidence in sports, I also managed to fulfil another sporting ambition and learnt to row with an inclusive rowing team, the London Otters Rowing Club.
The OtterPups learn-to-row courses combine the club's rowing expertise and the use of specialist equipment at the Royal Docks Adventure regatta centre, and is a great way to meet amazing individuals that have come to the Otters from varied backgrounds.
Lee, who joined shortly after me, says: "Joining the Otters was a massive step for me. I had come out of a very long-term relationship and, I know this sounds cliché, but I lost what it was to be me.
"I was filled with apprehension at the thought of meeting new people but excited about spending my weekends doing something rather than nursing a hangover.
"I found very quickly that the club is a supportive place and offered much more than rowing. It's given me the chance to explore who I am, meet new friends, not to mention a huge extended family."
The Gay Games - 'an amazing sense of oneness'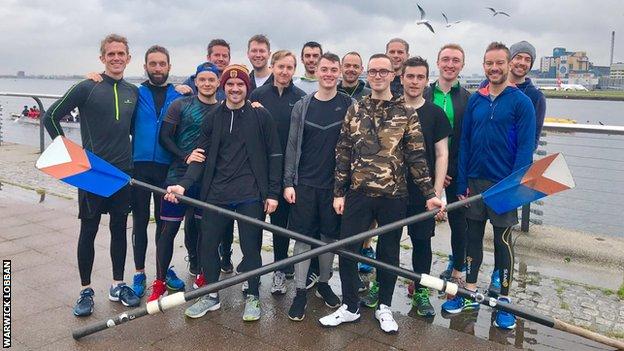 We progressed from the entry level to their competitive crews, in less than 10 months I'd be competing in an international regatta!
We went to the 10th Gay Games, held in Paris in August.
In keeping with the club's spirit of inclusiveness, I competed in different categories with an Otters team of very diverse backgrounds of many stories. Myself and my fellow Otter, José Cantarero, asked a few of them to share their stories.
Take Jonathon for instance; he came to sports at the age of 46 after taking up running.
"My cousin finished the NHS couch to 5k programme and she spoke so highly about it," he says.
"I was then inspired to buy my first pair of trainers since school so I could try it myself. I loved it."
Two years later, Jonathon took his first rowing course but did not progress in joining a regular crew.
"A few months later, I was still rowing in the gym and was surprised at how much I missed rowing on the water," he says.
"There's an amazing sense of oneness on the water. I came across the London Otters and found a fantastic, friendly and supportive bunch to row with."
From rowing machines to a real boat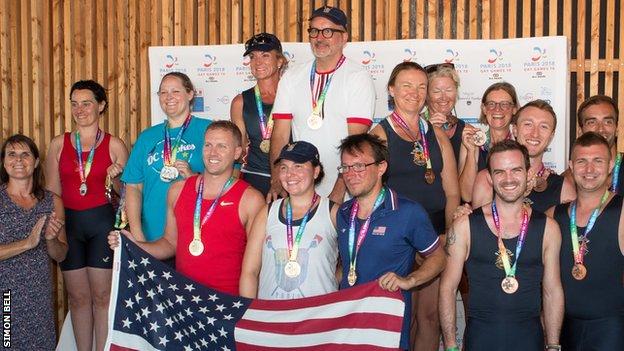 Another rower, Ania, who competed with me in the Mixed Eight Masters category, agrees on the benefits of joining an inclusive club like the Otters.
"In my mid-forties, after a back injury, my physio recommended I exercise on a rowing machine," she says.
"Rowing involves strength, stamina, and aerobic exercise and it did not matter that I was flat footed and clumsy. Suddenly, I realised there was an exercise I could do and even might be good at! I sought opportunities to row in a real boat."
However, like many other women her age, Ania struggled to find a place in the sometimes competitive British rowing environment.
"After trying a few other rowing clubs, where due to my age or lack of experience I didn't quite fit in, I eventually did a course at the Royal Docks Adventure Centre and joined the Otters. I have been embraced by the club, made many new friends, and for the first time in my life been part of a sports team."
The cox, who's in charge of steering the boat, is a key part of the crew.
"I first learnt about rowing in Canada through university classmates. They were all physically stronger. I was fascinated by the sport, but I did not see myself around it," says Varun, our cox in Paris.
"However, my view changed last year when I found out about the club. I contacted them and was asked to attend an open-day session. The learning curve was steep but the rowers and fellow coxes were extremely supportive."
The joy of being a bronze medallist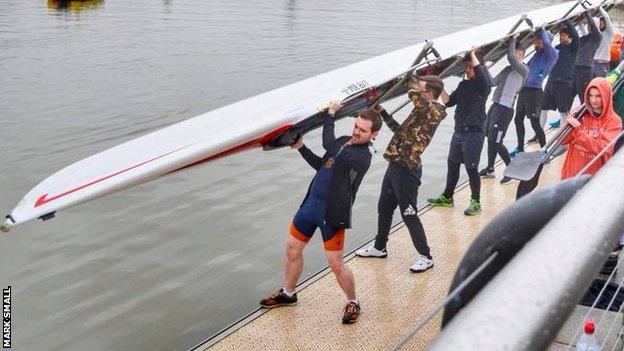 For all of us, competing in the Gay Games was a sporting experience in which we never thought we would take part.
For me, competing in the Mixed Eight Masters was an incredible culmination of my rowing journey so far.
As a full crew we'd only been able to practise together a couple of times and as our race started we discovered a few hiccoughs, but none of that mattered when we got out on the water.
We gave it our best and found our rhythm. It was a close race [less than a second between us and the boat which took silver] but we weren't at all upset: we were so delighted to have won bronze!
'There is still work to be done'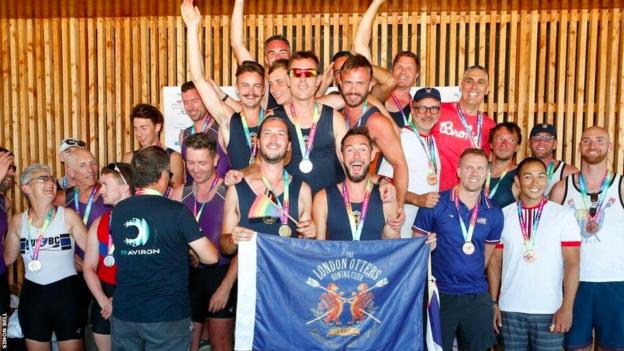 The Gay Games aren't just a sporting event, it also gives us a way to reflect on the LGBTQ+ community worldwide.
"For me it was great being able to meet and talk to people from teams from major cities around the world, to hear the stories about their own journeys," says Ania.
"The sheer number of competitors made me realise how large the LGBTQ+ community is throughout the world today but it was noticeable that most competitors came from major modern cities where it is acceptable to be gay.
"The only sad aspect of the Gay Games was the absence of so many countries, which are not as forward thinking."
This is a reminder to me and all of us in the club that there is still work to be done to reach out and support LGBTQ+ people around the world.
As well as my bronze, the London Otters came back home with two more bronze medals, two silvers and three golds.