Abdus Salaam, 18, turned his life around by becoming a cricket coach for the Lord's Taverners
Last updated on .From the section Get Inspired
In 2015, Abdus Salaam from Luton was "out on the streets and causing trouble, just for fun."
He had witnessed domestic violence and knife crime first-hand and seen some of his friends die after "going down the wrong path."
Two years later, the 18-year-old is an award-winning volunteer and cricket coach, inspiring children up and down the country.
Abdus is a coach with Wicketz, a programme from the Lord's Taverners charity which provides opportunities to children aged 8-16 from areas of high deprivation to play the sport, while also teaching important life skills.
From troubled teen to inspiring others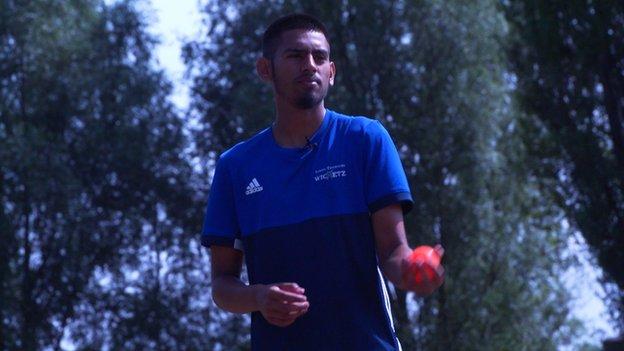 Abdus joined the programme as a participant two years ago as a way to distract himself from troubles at home.
"Growing up, we had social workers and police around the house all the time," he says.
"You see a lot of people from the government coming down and you don't know what's going on. Mum raised us as well as she could but she was young, she was struggling to balance college life and looking after her kids.
"I caused trouble for neighbours and innocent people for no reason."
Abdus made new friends through playing cricket and being a part of Wicketz. He says it helped him realise that he needed to "make his mum proud" and change his behaviour.
"We had a lot of racial attacks where I'm from, a lot of bullying, which added to my anger," he adds.
"But playing cricket with different people, from all backgrounds, made me realise not everyone is the same."
Abdus was one of the oldest children on the programme, so decided to focus on coaching instead. He worked on his badges and six months later was a qualified coach with Wicketz.
The Wicketz Festival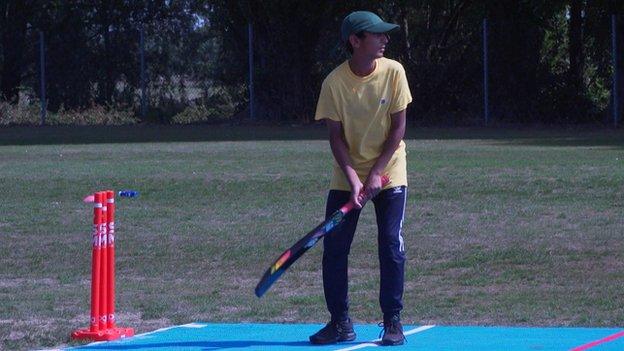 The Lord's Taverners delivers the programme across the United Kingdom, from Plymouth to Glasgow. Earlier this month, Abdus was part of the coaching team at the Wicketz Festival, an annual three-day residential trip for children to come together, held in Derby.
"Wicketz is for young people who live in areas where they have no access to the sport, which could be for a number of reasons such as financial reasons, high deprivation area, a lot of crime or no green space," says project manager Dan Wilson.
The children, many of whom have never been away from home, combined cricket matches and training with classroom sessions on subjects including counter-terrorism, dangers of eating too much sugar, social media safety, first aid and knife crime.
They also received coaching from ex-England international Kabir Ali and former England coach Peter Moores.
"It's all about making sure they are having fun with the game of cricket, something I have done all my life," says Moores, now coach at Nottinghamshire County Cricket Club.
"But it's also important that they learn life skills. You have to take a bit of disappointment sometimes in cricket, like getting out cheaply, and then you have to support your team.
"And that's what sport is all about, it's about enjoying when other people do well when it's not your day."
The coaching sessions went down well with the youngsters who took part, with 12-year-old Hadi from Manchester saying: "My ball was all over the place but Peter Moores helped improve my action and now I can hit the wickets properly."
Ollie, 12, from east London, added: "Cricket is my favourite sport and it's been nice to meet people from all over the country."
How writing poetry helped Abdus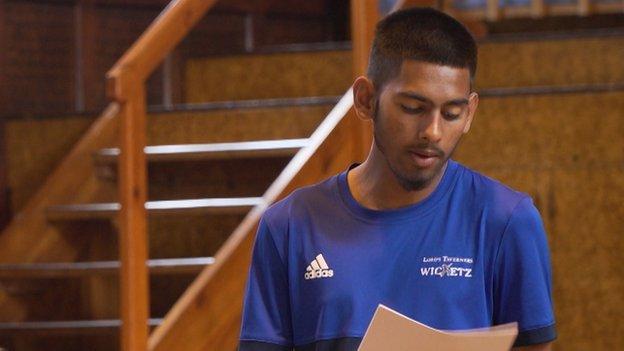 In his darkest times as a teenager, Abdus wrote poetry to help overcome his anger problems and to deal with bereavement.
"When people in my life passed away, I'd write a letter, in the form of a poem, in the notes section of my phone. No-one would ever read that letter, except me. I would close my eyes and imagine they were replying to me."
Reading his poem out to children at the Wicketz Festival, Abdus, who has won a National Crimebeat award for his volunteering, says he is proud to be both a coach and role model.
"I grew up thinking I wouldn't achieve anything, but now I have have kids asking me for advice," he adds.
"I learn more from the students than they learn from me."
Abdus also encourages other young adults to take up coaching - he feels that children can relate to people who are closer to their age.
Moores agrees, saying: "The world has changed a lot and it is our job as older coaches to be able to change with the times but to get coaches at 17 or 18 years old is so important."
Do you fancy becoming a coach or volunteer? All clubs need a chair, secretary and treasurer to help things run smoothly as well as officials, coaches and judges. Whatever role you're interested in, Join In has opportunities to volunteer in your area.