Get Inspired: 'I refused to let bowel cancer and a stoma bag stop me playing football'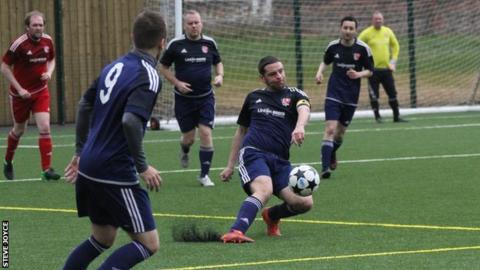 Amateur footballer Rob McPherson has a secret.
It isn't his sexuality; he came out just before joining Village Manchester FC - a gay and inclusive club - in 2007.
His 'secret' came to light because of what he describes as his "gung-ho" approach to football...
Rob is playing in his last game of the 2017-18 season for Village Manchester reserves. He jumps into an aerial challenge everyone else can see he is going to lose. Sure enough, he comes off second best, leaving the field with blood pouring from his nose.
But his team-mates are more concerned about his stomach. It is only when he lifts his shirt to wipe away the blood that it becomes clear why.
Rob is wearing a large protective belt, covering a small lump on his stomach. He is playing despite having a stoma. He has bowel cancer.
Here, the 33-year-old from Northern Ireland tells BBC Sport about life with a stoma, how his team-mates helped him cope with having cancer, and why he is determined to keep playing despite having chemotherapy.
Life with a stoma
"Within 14 hours of going into hospital, I was on the operating table. I wondered what would've happened if I'd left it longer."
Rob was rushed to hospital last November after feeling "shooting pains" in his stomach. He had an operation - a colostomy - after a blockage was discovered.
He now has a stoma - an opening made by bringing part of the bowel to the surface of the abdomen, allowing food waste to pass out of the body into a bag.
"I started vomiting and my stomach was getting larger," he said. "Then I was rushed into hospital and the next morning I needed an operation. It was only then that it hit home how serious it was.
"The first few days with a stoma are weird. You're thinking, 'what the hell's this?' I didn't want to look at it. At first, the stoma nurses empty the bag and clean the stoma, but then you get intrigued and start doing it all yourself.
"It only adds two or three minutes to my morning routine, and when I go to work or the pub I always have to make sure I've got supplies with me, in case the bag bursts or I need to change it.
"And you get used to telling everyone about your bowel movements and other stuff I never thought I'd talk about. It kind of makes no subject taboo."
New additions to the kitbag
Two days before Christmas, Rob was told the blockage was bowel cancer. In January, he started five weeks of chemotherapy and radiotherapy to shrink the tumour before it would be removed.
Before surgery, or 'prehabilitation', patients are encouraged to get as fit as their circumstances allow. The fitter you are, the easier it is to come through treatment and recover from surgery.
In April, after four months away from football, Rob returned - with a protective belt and cup over his stoma.
"The first time I put it on I did it discreetly, in the corner of the changing room, so my team-mates wouldn't see," added Rob, who is from Coleraine. "I'm sure they still did, but they didn't say anything.
"I was nervous about what would happen on the pitch because of the way I play football. I suppose I'm like [former Liverpool and England defender] Jamie Carragher - I'm quite gung-ho, I slide into tackles, go in for headers and block shots with whatever I can.
"I went into tackles a bit differently so that I'd land on the other side of my body and, once I made that first sliding tackle, a lot of that worry disappeared.
"The one time I was worried was when I went for a header and the opposing player landed on me. But I felt my stoma, adjusted my belt, and it was fine."
'Living with and beyond cancer'
"We tell patients: 'You're still you, it's just a slightly different way of your body functioning.'"
Rob had his tumour removed on 2 July, giving him five weeks to recover in time for last month's Gay Games in Paris.
Deborah Hitchen, a colorectal clinical nurse specialist at Manchester Royal Infirmary, supports patients such as Rob "living with and beyond cancer", helping them realise life doesn't end at diagnosis.
"We want people to get back to a 'normal life' - whatever is 'normal' for them and whatever they enjoy doing," she said. "In Robert's case, that's football, so we try to tie in treatment and operating dates around that, in particular the tournament in Paris.
"It was on the cusp of being a bit early, but Robert wanted to be there with his team. Psychologically, it would have been good for him, and medically he was fine to play. There was no way he could play a full match so we said: 'It's up to you.'"
Rob, who has lived in Manchester since going to university there in 2003, played at least 15 minutes in each of the team's six games.
"It is unusual for someone to play football with a stoma so it's brilliant that Robert has felt confident enough to do that," Deborah added.
"It's mainly down to a lack of confidence with the appliances, but if you get used to that there's not a lot you can't do - you can play football, you can go swimming, you can go rock climbing."
More chemotherapy
Having been voted player of the year in previous seasons, Rob was named VMFC's clubman of the year this summer, and became their new chairman. His team-mates also raised more than £5,000 for Macmillan Cancer Support.
Although his tumour has now been removed, Rob has agreed to more chemotherapy to combat any microscopic cancer cells that may remain.
But he is still playing - the reserves kicked off their season on 2 September - and he is already planning next summer's overseas trip, to Rome for the EuroGames.
"Joining Village Manchester is the best decision I've made since coming over here," said Rob.
"The team has been great, and not just because of the speech and applause at the end-of-season party. The fundraiser wasn't for me, they just wanted to do something for charity, but it showed they care and that some kind of good could come out of all this.
"I've never been worried about bringing up my situation and they don't treat me any differently. You get a bit bored of saying how you're feeling, and people asking the same questions, so when they visited me in hospital it was good to talk about something like football to take my mind off things.
"It also showed that it doesn't matter what illness you've got - or whether you're gay, straight or whatever. My team-mates still appreciate my opinion as a player and now the chairman."