Emily Defroand: England hockey player's debt to mother Gill
By Ross Bone
BBC Get Inspired
Last updated on .From the section Get Inspired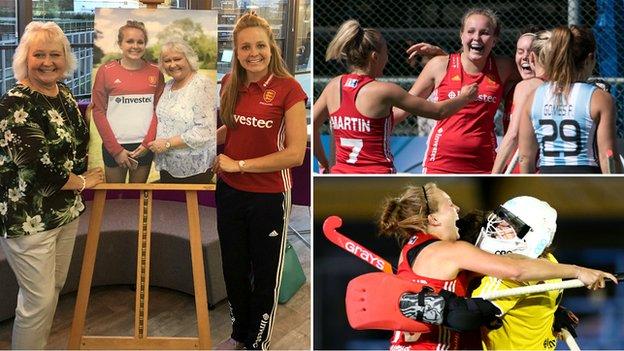 It's well documented that to reach the top level of sport every athlete needs to make sacrifices.
Blood, sweat, tears. Highs, lows, hours in the gym, missed social engagements. The list is seemingly endless.
What is perhaps less publicised is the lengths to which some athletes' parents go to so their children can get to where they aspire to be.
"I don't think I could ever put into words how much your support has helped me," England and Great Britain hockey player Emily Defroand says to her mother, Gill. "Both on and off the pitch.
"Your constant positivity, you're always a shoulder to cry on and the experiences I've had living my dream are all down to my family.
"It means the world and I want to make my family proud and make the sacrifices worth it."
These words are not said lightly as both Gill and Emily describe the journey the latter has been on: from the six-year-old tearing up and down the pitch in a chaotic manner at Havering Hockey Club, where mum Gill already played, all the way to the senior squad trip to South Africa where the Surbiton star made her full international debut.
It has been some journey, and Defroand's family have been there to see it all.
"I got into sport thanks to my mum," Emily explains.
"My first memory is going to watch her play every week and just wanting to get involved. I loved it from that moment on.
"I grew up playing at Havering and had lots of friends whose parents played with my mum. I was lucky enough to play alongside my mum aged 11 and we always say I'd do the hard work and she'd get the glory by scoring the goals.
"I look back on that really fondly and that's what sport is all about for me."
Logistical miracles
Emily also credits other members of her family for helping her to love sport.
"I'm really lucky I grew up with two older brothers and sport has always been part of our lives," says the 23-year-old, who has been capped 35 times by her country.
"I remember being in the garden playing cricket with them or being stuck in goal while they smashed the ball at me as hard as they could.
"As bad as it sounds, it made me want to play every sport under the sun and obviously that relied on mum and dad being able to take me to sports clubs.
"I've made friends for life through sport and that's so important to me as a person. Your support network needs to encourage participation in sport. Not just a single sport but all sports so that children can find things they enjoy. I'm lucky I had that chance to try things."
With Emily and her two older brothers playing every sport they could, as well as fitting in going to watch their beloved West Ham on Saturdays, the onus was on Gill and her husband to perform logistical miracles to get their children to every sporting engagement.
"I took supporting to mean helping them to get ready, getting them to training or the match on time, making sure they have their kit, they enjoy it and so on," says Gill.
"Sometimes it was a case of dropping one child somewhere, rushing home to collect another and taking them somewhere and then picking the first one up. That was our weekend for my husband and me.
"We only had one car to begin with so it was always a challenge but we bought a second car because we often needed to be in two or three different places at once.
"You build up that network and you help each other out, so other parents help you and you help them, but we managed. I'm not sure how, but we managed."
And Emily acknowledges the efforts.
"The sacrifices mum and dad made back then were huge," she adds.
"I look back and realise how helpful it was for me and how selfless that was from my parents.
"I don't think I'll ever be able to show how much I appreciate it and what a key vital role it played for me. We were so lucky."
Learning from the low times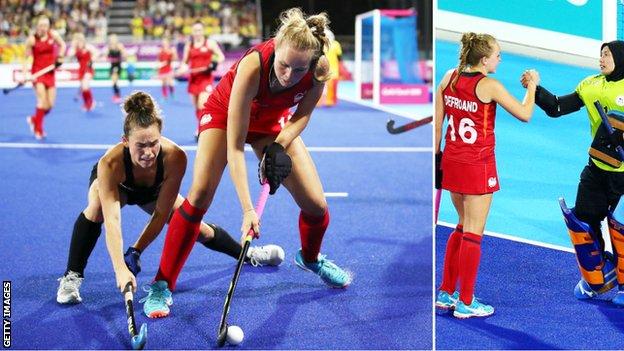 Whilst you could be forgiven for thinking Emily's path to the top has been plain sailing, Gill and the rest of the family have had to step in when the down side of elite sport has kicked in.
This month, England will be competing in a home World Cup in London but Emily has not made Danny Kerry's 18-strong squad.
"It's all part and parcel of sport. There are always highs and lows and my family have always been with me through the good and the bad times," Emily says.
"I lean on my parents and in particular my mum. It's not necessarily the words that they say it's the actions - the arm around the shoulder, the big hug to make you feel better.
"Something that's always stuck with me is my mum has always been forward thinking. No matter what the setback, what the knock it's how you deal with it and come back to turn it into a positive or a driving force is what counts."
Gill's response to missing out is an impressive one, saying it's about how Emily reacts to the disappointment and what it means for the future.
"You always get setbacks in life. How you are defined is by how they affect you," she says.
"We are always there for Emily, but we also try to help to learn from these experiences."
Setbacks aside, Emily has accumulated a significant number of caps for her country, something both her and her family are immensely proud of.
As Gill says, no-one can ever take those away from her, and the whole family are "proud no matter what happens".
Missing out on the World Cup will not be the defining moment of Emily's international career.
It will drive her forwards to succeed in the future with a renewed determination.
And her family will be there every step of the way, cheering her on.