RideLondon-Surrey 2018: On my dad's bike - 'he'll be there in spirit'
Last updated on .From the section Get Inspired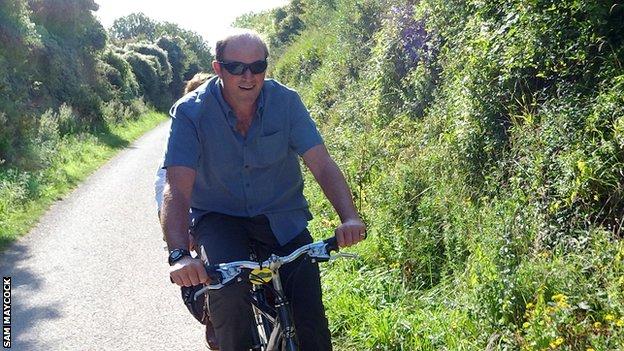 RideLondon-Surrey on the BBC
Venue:
London & Surrey
Dates:
Saturday and Sunday 28-29 July
Coverage:
Live on BBC TV, HD, online, mobile, BBC Sport app and Connected TV (16:50 BST Sat Connected TV & Online/11:00 BST Sun BBC Two/13:30 BST Connected TV & Online).
"He would have been there in spirit anyway, but riding on my dad's bike makes me feel like he will be at the start line with me."
Sam Maycock from West Horsley will be fulfilling his late dad Nigel's dream by taking on the 100-mile cycle route in the RideLondon-Surrey ride on Sunday, July 29.
After failing ill in November 2014, Nigel was diagnosed with a brain tumour.
"It was a Sunday evening and he had a fit, so we went to hospital and he was diagnosed that day," says 23-year-old Sam.
Nigel had an operation the following month in which the tumour was removed and, as far as Sam and his sister knew, his dad "would be fine forever".
'He wasn't dad anymore'
"But we were told later, which I am so happy that we were never told at the time, that he was given a three-to-six-year lifespan after the operation," says Sam.
Nigel's health started to deteriorate in summer 2017 whilst Sam was working away in Singapore.
"When I came back, the best way to describe it is that he wasn't dad anymore," he says.
"In the space of a month he went from being compos mentis to being unable to do anything."
Nigel died in October 2017, aged 52.
'Dad was always keen to do RideLondon'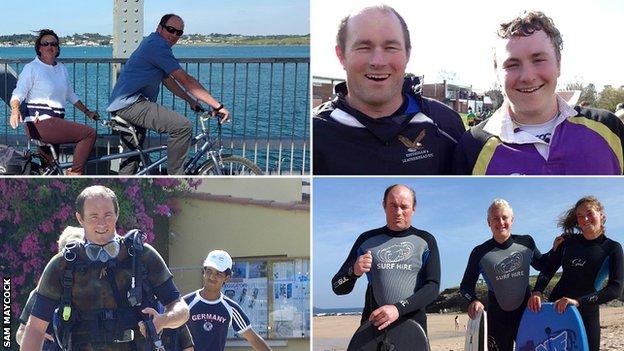 Nigel's passion for cycling first sparked after watching the success of the Great British team in the 2012 Olympics and he started riding more whilst recovering from the operation.
"Ride London also goes right past our road," adds Sam.
"So dad was always keen to do it. When he lost his driving licence due to illness he had to amuse himself somehow, so him and his friend got bikes and started to go cycling - which is kind of where the idea came from."
By his own admission, Sam is "as far away from being a cyclist as you can be," and has had some setbacks in training for the gruelling ride.
"I was playing rugby up until April and keeping fit but then I broke my arm so had six weeks out and no exercise whatsoever."
The pint at the end of the road
Starting from the Queen Elizabeth Olympic Park in east London, the route will see riders cycle through the closed streets of the capital and Surrey.
"I am most looking to finishing and having a pint," says Sam.
"I am fine with the hills as I'm used to them because of where I live, but I am dreading the sprint at the end - it's the last 30 miles I am most concerned about."
Sam will be cheered on by friends and family as he cycles past his family home.
He is raising money for Brain Tumour Research charity to not only raise awareness of the disease but to say thank you for the support he was given.
"The whole time through dad's illness, and afterwards, they have given so much to the family," he says.
"There was always someone on the end of the phone to ask questions and get a sensible answer from - it helped me to rationalise what happened and to comprehend what happens next."
He may not be an experienced cyclist and training has not gone to plan, but Sam says that concentrating on the ride has helped him with the process of grieving for his dad.
"I have gone with the attitude that dad would call me a lazy so and so if I sat around on my laurels and moped about it.
"But getting out, doing things and enjoying life whilst doing it for a good cause, is something he'd be proud of. "