Matt Hampson: How Get Busy Living Centre helped keep ex-Leicester Tigers player alive
By Owen Phillips & Natalie Jackson
BBC Sport
Last updated on .From the section Get Inspired
Matt Hampson was too busy taking inspiration from his own 'Get Busy Living' mantra to succumb to a near deadly combination of pancreatitis and pneumonia.
But he was perilously close to missing out on seeing his dream realised.
Thirteen years after Hampson was left paralysed from the neck down by his own catastrophic sporting injury, the unique Get Busy Living Centre offering total support to those in a similar situation is up and running.
However, Hampson's brainchild was so nearly his parting gift.
"It was tough," Hampson, 33, told BBC East Midlands Today in a typically understated way when recalling the illness and "knock-on" effect of pneumonia that very almost killed him last December.
"I stayed awake for 10 days. I just wanted to live. I was frightened to death of dying, as it were. I was scared.
"I so wanted to stay awake to see the centre do what it is supposed to do. I am so grateful I am here and I love coming here every day."
The former Leicester Tigers rugby player has devoted almost all of his time to helping others through his tireless work with the Matt Hampson Foundation since a freak training ground accident while on England Under-20s duty in March 2005.
And, although it is not officially open until September, the centre has already "done" plenty.
Making your own rules
Hampson sees the facility in the Leicestershire countryside near Melton Mowbray as a unique "social club" providing physical, practical and, crucially, emotional support.
"A centre like this is so, so important and we are really starting to see that now," he explained.
"We never envisaged how important this place was was going to be. To see our beneficiaries and families coming along, to see them move on with their lives and do amazing things makes me so proud of the foundation and everything it has achieved.
"We don't want to call it a rehab centre because it is not just about physically getting better. It's the mental aspect that is the most important thing we offer.
"Upstairs, the gym area is amazing but that goes hand in hand with the downstairs space, which is a big social space where people can chill and feel part of something again.
"We try to show people there is a great life you can lead. When you get out of hospital you start making your own rules up and doing your own things."
Hampson said the centre is "trying to change the world a bit" and show people that they can still lead a "great and fulfilled life".
"I am so proud of this place," he added. "It's been a big undertaking but I am so glad we have done it. All the hard work is really coming to fruition."
People are already queuing up to give their gratitude and glowing reviews. Not least Dan Harvey.
Nearly three years ago, he dived into the sea while on holiday and hit a sandbank. He took his first steps since the accident last month, after just three weeks at the Get Busy Living Centre.
In October last year he was told he would never walk again.
"I took two or three steps on the crutches," the 32-year-old said, smiling as he fought back the tears. "It was incredible.
"This place is amazing. You can come here, relax, have a coffee, sit and chill. It is a community.
"What Matt is doing - and everybody that works here - is amazing. The amount of people this place will help over the years is brilliant. It's massive."
Hampson said seeing Harvey walk again was an emotional day for everybody.
"Dan really struggled initially," said Hampson. "He was really angry from what I heard. It gave him that positivity to move along with his life.
"Guys like Dan make it all worthwhile. We were all buzzing to give him that opportunity. That's what makes this place unique."
'I love my life'
Hampson's own journey was no easier. But he has no doubt what he went through as a 20-year-old sportsman, who had seen his dreams fade, made him a better person and he is in a great position to know how to help people.
"The accident happened for a reason. That's how I have to justify it in my head," added Hampson.
"I had some dark days with the things you go through in your mind wondering if life will ever be normal again. Then I left hospital and that was another stage.
"It was tough but the foundation came about and that has given me a purpose and something to channel my energy into and I have tried to give something back.
"It's bittersweet. I absolutely love my life now. Some days are difficult, but everyone has difficult days.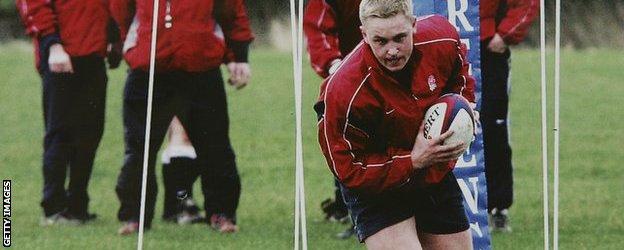 "I am not going to say I like being in a wheelchair. I'd like to be able-bodied but this has happened and you have to crack on and make the best of it and turn a negative into a positive."
The reward comes from seeing people like Dan Harvey walk again. And the next stage is just as exciting for Hampson and his friends and colleagues.
In the short term, the garden will be finished to bring a "social space outdoors", while longer term there is hope of a Get Busy Living Centre in the south and north of England, and maybe one abroad too.
Accommodation for families is also on the agenda.
'A really boring injury'
Centre manager Darrel White has been a friend of Hampson's since they met in hospital soon after Hampson's injury.
White was left paralysed after slipping about three feet off a ladder, an accident he joked was "really boring".
They have been through a lot together and White is honoured to do the job he does and stop people "falling into the trap of isolation".
"Every day it's a challenge," he said. "You don't want to have a day off because you are making a difference to people.
"This whole place is an extension of Matt that we want to share with the world. Matt is an amazing guy, the most generous person in the world.
"His whole drive behind creating this is to get people out there and get busy living and to inspire them."
Tommy Cawston, chief executive of the Matt Hampson Foundation, added: "It's been a bit of a journey over the last few years - and the past few months especially with Matt being poorly.
"We are delighted with the building. In the next couple of months it will really come alive. It is pretty remarkable but he is a pretty remarkable man so it is no surprise.
"By being himself he helps so many people. People have taken him to his hearts. He is selfless - the most generous man I have ever met. He wants to help people. People supported him and he always wanted to give back."