Coaching Week 2018: Teaching Zumba helped Charmaine's post-natal depression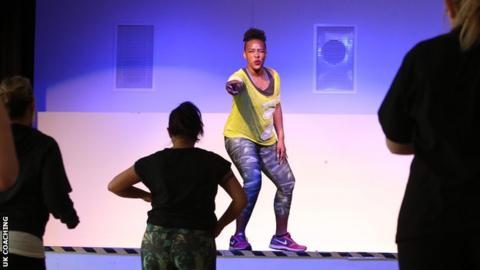 "Seven years ago I gave birth to my second child and suffered quite heavily with post-natal depression. To be frank, I hated myself and was the lowest I had ever been."
Charmaine Daley from Nottingham was receiving professional help and was on anti-depressants. In a bid to help her overcome the illness, her friends told her to give the aerobic dance workout Zumba a go.
Seven years later, Charmaine, 40, is a full-time Zumba instructor and is being celebrated on Coaching Week (4-10 June), a campaign which UK Coaching - the lead agency for coaching in the UK - has launched to recognise and support those who go above and beyond to help others.
'Zumba is a positive and mental health therapy'
"When I went to my very first Zumba class I was so inspired by the coach. There were women of all different shapes, sizes and ages of abilities and it was a really positive and empowering atmosphere," says Charmaine.
She had also been made redundant from her job in the public sector, which she says added to her depression, so decided that she herself would train to become a Zumba instructor.
Charmaine says that the biggest positive of Zumba is the mental health benefit, both for herself and those she teaches.
"There is so much focus on calorie burning and weight loss - which will all take place when you exercise - but for me it's all about that escapism and for both the instructor and participants to be able to switch off from the world for an hour," she says.
"It's like therapy; a positive and mental health therapy.
"I get to switch off and I can see a lot of women who initially come to the class with the weight of the world on their shoulders and are stressed out - financial problems, relationship problems, negative body image - but within 10 minutes I've turned the music on, the endorphins are released and the stresses are alleviated."
Coach something you're passionate about
Charmaine now teaches Zumba full-time and is encouraging others to take up coaching, regardless of whichever sport or activity they are interested in.
"I think a coach has to be inspiring, person-centred, positive and approachable," she says.
"But you need to be passionate about what you do, believe in what you're doing and in yourself."
So what is Charmaine most passionate about?
"Positive mental-health in the coaching that I do," she says.
"I want to inspire every single person to try different things and find the one thing that makes you happy. Keep trying until you find that activity and reach your full potential."
To learn more about Coaching Week you can visit the UK Coaching website and share your #GreatCoaching experiences on social media. You can also find out about volunteering opportunities near you with the Sport and Recreation Alliance's new Volunteer Opportunity Finder.
If you know someone who is active in grassroots sports or generally getting people active we will again be recognising them in the 2018 BBC Get Inspired Unsung Hero award.