Coaching Week 2018: How coaching helped Bisi Imafidon overcome personal setbacks
Last updated on .From the section Get Inspired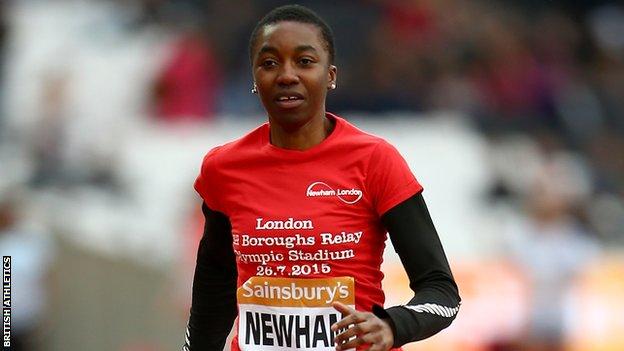 Bisi Imafidon has overcome many setbacks in her life, including being made redundant after working for 24 years in banking, by focusing her energy on coaching sport and helping others.
From somebody who, by her own admission, "wasn't fit" and "had no interest in exercise", how has the 51-year-old from East London gone on to gain coaching qualifications in several different sports?
"People assume I always did sport, but I've gone from being totally inactive and majorly unfit to changing my outlook," she says.
"Growing up I had absolutely no background in physical activity whatsoever, apart from PE in school. But in 2005 I made the decision to get fit after I had children."
Bisi is one of the coaches being celebrated in Coaching Week (4-10 June), a campaign which UK Coaching - the lead agency for coaching in the UK - has launched to recognise and support those who go above and beyond to help others.
'I want sport to change other peoples' lives'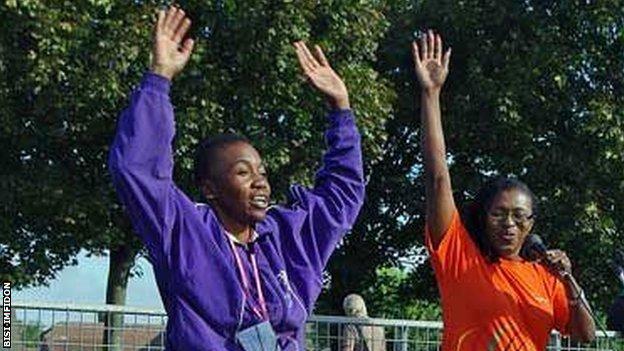 Bisi joined the East End Road Runners club and started to improve her fitness - but her journey did not stop there. She immersed herself into the club by becoming a volunteer on the committee.
But in 2009 she was made redundant from her job, prompting her to give more thought to what she wanted from a career and how to spend her spare time.
"Having been a runner and experienced how my coaches had encouraged me, I wanted to try it and give back," she says.
"I've gone from not having any previous sporting background to having it change my life -now I want it to change other peoples' lives."
Bisi started off by supporting the coaches at her running club and then worked towards her coaching badges, with the help of some funding for specific projects aimed at getting local women fit.
"In general in East London, women getting active is an issue as many are struggling with work and child care, as well as some cultural resistance about doing exercise," she says.
"I have had women who are initially reluctant but once they try it and they get fit they start to have fun."
The difference between playing and coaching
Bisi now holds coaching qualifications in sports including triathlon, tennis, boxing, handball, volleyball, basketball and walking football, as well as being a qualified fitness instructor.
"I've never done some of the sports that I have qualifications in," she says.
"In terms of my skill level, I'm not a footballer or a tennis player, but I think there is a distinct difference between being a footballer and being a coach.
"I love watching sport and that also helps as well and I'll go to experts if I can't demonstrate, I will call on others when needed."
'My mantra as a coach is to turn I can't into I can'
Bisi combines her coaching with a full-time job at a primary school and says that aside from watching people get fit and transform their lives, it is the friendships she has formed through coaching that give her the most joy.
"I have met people who actually live on the same street as me. They come to my sessions, we find out we're neighbours and become friends on the outside," she says.
"I like that aspect of coaching, that it's not just about getting active, it's the social benefits which can help with isolation and mental health.
"Whatever I coach, as long as I make a difference, small or big, that for me is important. My mantra as a coach is to turn I can't into I can."
To learn more about Coaching Week you can visit the UK Coaching website and share your #GreatCoaching experiences on social media. You can also find out about volunteering opportunities near you with the Sport and Recreation Alliance's new Volunteer Opportunity Finder.
If you know someone who is active in grassroots sports or generally getting people active we will again be recognising them in the 2018 BBC Get Inspired Unsung Hero award.