Coaching Week 2018: Why Anna Jackson loves coaching wheelchair basketball
Last updated on .From the section Get Inspired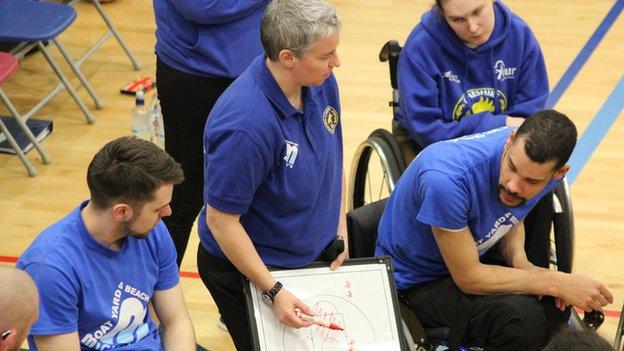 "Coaching wheelchair basketball is not just about a round ball and a round hole. For me it's about making somebody a better person both on and off the court."
Anna Jackson, who played for the Great Britain Wheelchair Basketball team for 10 years, devotes several hours each week to coaching the sport.
The 46-year-old from Chester is head coach of Cheshire Phoenix Wheelchair Basketball Club, based in Ellesmere Port, as well as assistant coach of the Wales Under-19 side.
To mark Coaching Week (4-10 June), Anna is encouraging others to give up some of their free time to take up coaching and experience "the incredible sense of satisfaction" that she has.
Coaching Week is a campaign UK Coaching - the lead agency for coaching in the UK - has launched to celebrate and support those who go above and beyond to help others.
'Those magical moments'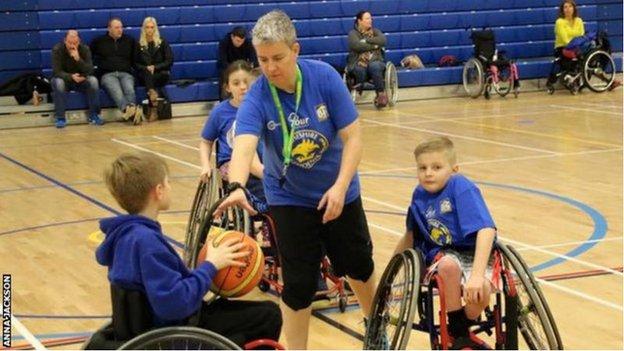 Anna also coaches a women's league club called Angels of the North and has responsibility for getting women and juniors from the North West into the sport.
She says that time-management skills are important when becoming a coach, but not everyone has to volunteer for as many hours as she does.
"There's nothing that is too little; any time you can spare will help. As long as you're organised and plan your coaching, then even one hour is plenty," she says.
"The potential to make a difference is massive. It's about those magical moments, whether you're coaching a five-year-old or 65-year-old.
"It can be just the tiniest things, like someone scoring their first basket. Or you see their confidence growing in their life in general, like going to college or getting a job."
What makes a good coach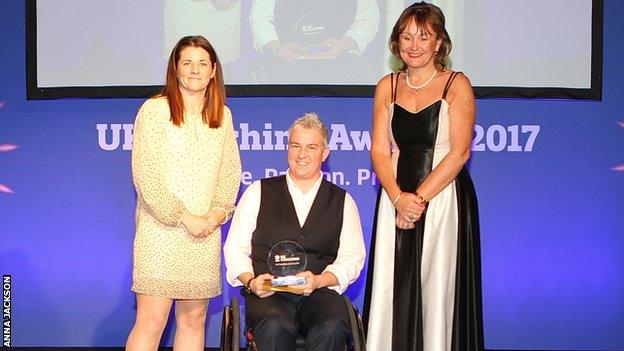 Coaching has always been something close to Anna's heart, even as a teenager. When at secondary school, she did her hockey, tennis and badminton badges.
She coached her university's hockey team but then had to give it all up aged 25 after repeated knee surgery left her unable to run or even walk well.
"Wheelchair basketball happened by accident - I gave it a go and loved it from day one," she says.
Anna says even if you have not played a particular sport before, it should not stop you from becoming a coach.
"I think coaching and learning to play a new sport can go hand-in-hand. As long as you're prepared to learn and watch the sport and keep up with the way coaching evolves, there is no reason for you to not succeed."
So what attributes make a good coach?
"It's very much about who is the person in front of you. It's about empowering and being positive with your players," she says.
"I work with players who are going to be GB level athletes but I also work with players who want to come along, play once a week and experience new things. I think those are the players who you can have the biggest impact on."
Anna says a good coach is also someone who can adapt and tailor their sessions.
"It's not about just about looking at the age but - especially with wheelchair basketball and disability sport - it's about their physical ability, their ability to retain information and their method of communicating.
"For example, I work with a man who is deaf so I have gone on a sign-language course."
How to start coaching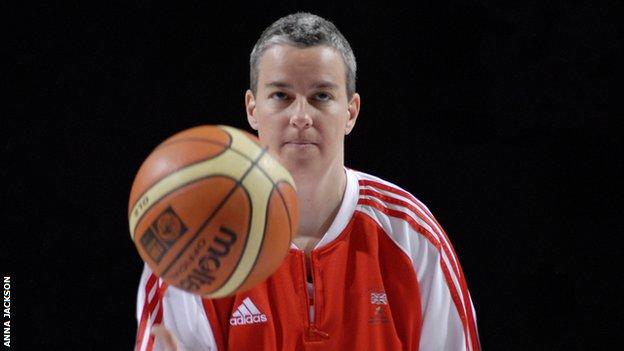 Anna, who suffered from mental health problems in the past, says that coaching has allowed her to understand players who may be suffering with similar issue.
"I have helped teach them things I have learned to improve my confidence," she said. "For me it's about gaining lessons from the bad things that have happened in your life, such as physical and mental health difficulties in my case, and turning those into positives and helping others."
To learn more about Coaching Week you can visit the UK Coaching website and share your #GreatCoaching experiences on social media. You can also find out about volunteering opportunities near you with the Sport and Recreation Alliance's new Volunteer Opportunity Finder.
"Just help out. You should get down to your local club and see what they have on offer," says Anna.
"All of us coaches have started out by supporting the head coach, collecting the bibs and the cones, but if you show any club a level of commitment and enthusiasm then they will support you through your coaching awards."
If you know someone who is active in grassroots sports or generally getting people active we will again be recognising them in the 2018 BBC Get Inspired Unsung Hero award.