Let's Ride 2018: City/town centre streets closing for British Cycling events
Last updated on .From the section Get Inspired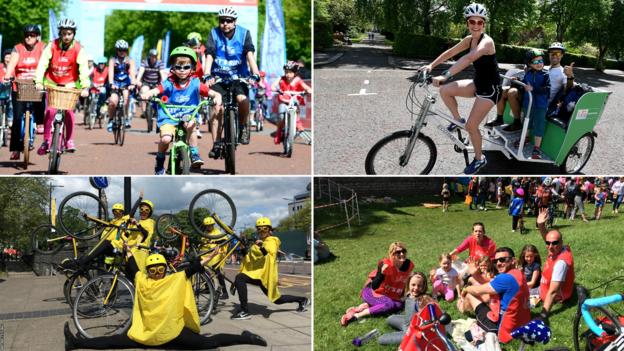 City and town centre streets across the United Kingdom will once again be closed to traffic this summer for British Cycling's 'Let's Ride' events.
More than 100,000 cyclists took part in the 2017 events across 14 different cities, riding approximately 1,595,500 kilometres.
And, after Cardiff kicked off proceedings this year on 13 May, there are 15 more city and town events for you to choose from.
The events are all free and non-competitive, with riders able to cycle around the route as often as they like.
It doesn't matter what kind of bike you want to ride, how fast you go, how experienced a cyclist you are or how old you are.
"Such a simple thing as a short closed-road route can be so much fun," said one Let's Ride 2017 participant.
"I found myself smiling the whole way round."
You don't even have to worry about owning a bike as you will be able to rent a bike at the events.
And it's not only the riding to enjoy.
On the day of the events there will be additional entertainment for families along the route staged by local community groups, museums and other cultural attractions.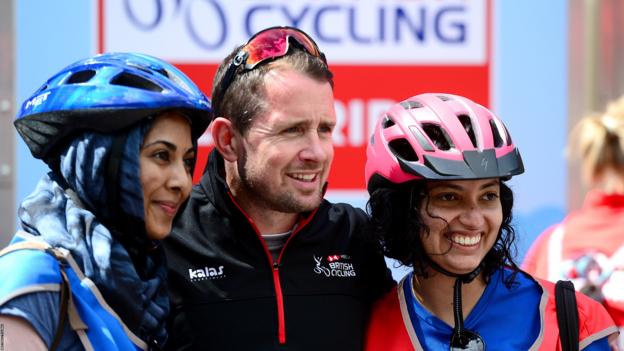 "The benefits of increased levels of cycling are obvious: getting more people on bikes will make us healthier, ease congestion on our roads and clean up our toxic air," says British Cycling chief executive Julie Harrington.
Indeed, research carried out by Newcastle University during the 2017 Let's Ride event in the city showed the levels of nitrogen oxide and nitrogen dioxide fell by around 75% from the normal recorded levels on the streets.
"It's my first time on a bike in about 10 years," said another 2017 participant.
"I've done about 10 miles so I'm pleased with myself."
Here is the schedule for the 2018 Let's Ride city and town events:
June 10:

Let's Ride Birmingham

June 17:

Let's Ride Southampton

June 24:

Let's Ride Edinburgh

July 1:

Let's Ride Manchester

July 8:

Let's Ride Bristol

July 13-16:

Let's Ride Stockton

July 15:

Let's Ride Sheffield

July 29:

Let's Ride Newcastle

August 5:

Let's Ride Coventry

August 12:

Let's Ride Leicester

August 26:

Let's Ride Glasgow

August 29:

Let's Ride the Lights (Blackpool)

September 2:

Let's Ride Leeds

September 16:

Let's Ride Nottingham

September 23:

Let's Ride Liverpool