ECB South Asian strategy: Amna Rafiq creating chances for diverse communities
Last updated on .From the section Get Inspired
Amna Rafiq loves what cricket has given her and wants to pass that on - and help others avoid some of the challenges she faced.
It's also exactly what the England and Wales Cricket Board - who have launched a new strategy to engage more people of South Asian origin to play, support and get involved in cricket - want.
Growing up in Barnsley, six-year-old Amna started at the local cricket club to be like older brother Azeem.
Without a girls set-up, she played with the under-nine, under-11 and under-13 boys teams but then "no one had an idea where to send me," she says.
Unperturbed, she set up a lunchtime club at her school with as many girls as she could gather and, by age 14, started coaching at schools in Barnsley.
"I realised how girls are attracted to cricket but within in a certain environment - and that's around other women and girls," Amna says.
"Seeing that made me realise that creating those opportunities is something I should be responsible for."
Now 22, Amna works for Leicestershire County Cricket club "creating opportunities for South Asian females and those from diverse communities to be able to access the game in the most comfortable environment for them".
One example is the 'Bollycricket' classes she has developed. After doing fitness moves to Banghra music they follow it up with a game of Soft Ball Cricket.
"When the women feed back to us," says Amna, "they tell us that they didn't realise that cricket could be so much fun."
Her brother Azeem, who became the youngest player to captain Yorkshire, adds: "It's about giving to people what she wasn't able to get."
'It's so important that we speak to new audiences'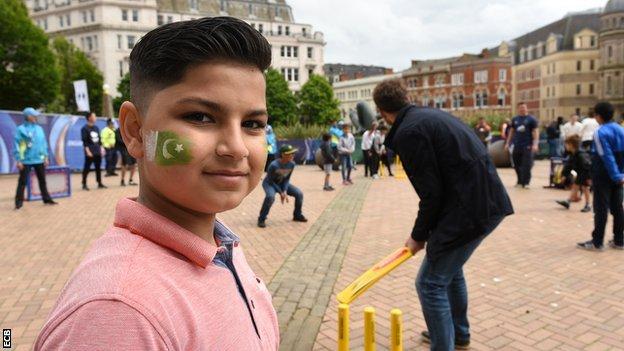 It's not just South Asian women that are being targeted in the new ECB strategy, though.
The 11-point plan is targeting both sexes.
It includes:
setting up new urban cricket centres

pilot projects for All Stars Cricket in urban areas

10 new Women's Soft Ball Cricket leagues in urban areas

financial support for talented young South Asian players

cricket sessions for 6,000 primary schools in deprived urban communities
It will focus its efforts in 10 core centres - Birmingham, Bradford, Kirklees, Leeds, Leicester, London, Luton, Manchester, Sandwell and Slough - in the initial two years.
The plan will then expand to engage with a further 300 districts.
England star Moeen Ali says: "Growing up in inner-city Birmingham, I fully understand some of the challenges and barriers for young South Asian cricketers.
"Many parents are still struggling to afford kit for their kids and the new bursaries will give emerging players the opportunity to improve and develop."
And Heather Knight, captain of the England's World Cup-winning women's team, embraces the strategy.
"It's so important that we speak to new audiences and engage new fans," she says, "especially women and girls and South Asian communities."
More than just a game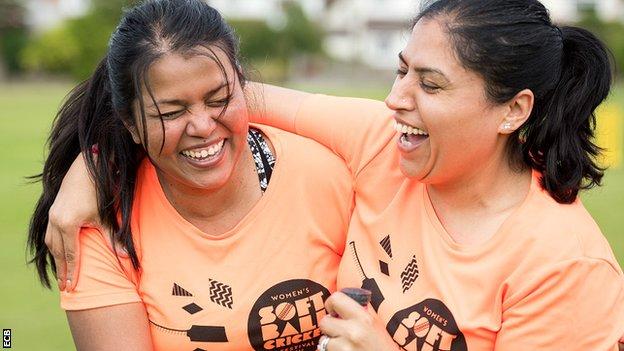 For Amna, the satisfaction and benefits she has gained from cricket is something she wants to pass onto the South Asian community the ECB are targeting.
"I've always found that cricket has a bigger impact than your cricket ability," she explains.
"Just playing a team sport, being around others, trying to communicate - stuff like that - really helps you develop as a person and that's exactly what it's done for me."