All Stars Cricket: Sign your children up for sessions this summer
Last updated on .From the section Get Inspired
Meet cricket-loving sisters Kira, aged eight, and Erin, seven, from Peasenhall in Suffolk.
Erin likes "bowling the ball really fast and hitting the stumps everywhere", whereas Kira prefers batting so she can "hit fours and sixes and score lots of runs".
In 2017 the girls were two of 37,000 children who took part in All Stars Cricket, the England and Wales Cricket Board's (ECB) programme to inspire the next generation of five- to eight-year-olds to take up the sport.
And the good news is that Kira and Erin will be back at Yoxford Cricket Club in North Suffolk this summer as All Stars returns for a second year.
More than 2,000 clubs across England and Wales will be hosting sessions, which begin in mid-May.
Eoin Morgan's favourite superhero?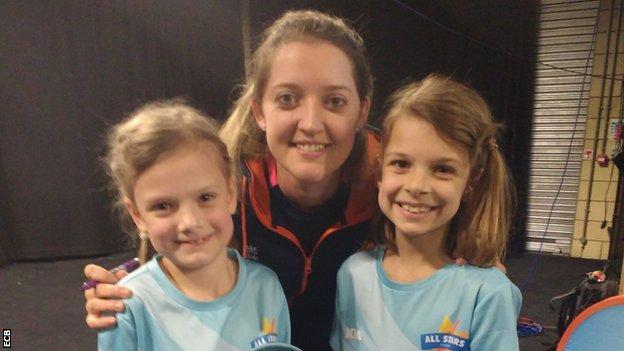 Year two of the programme was launched at Edgbaston Cricket Ground in Birmingham this year, as 80 local children, many from nearby Kings Heath Cricket Club, enjoyed a mass All Stars session.
Kira and Erin were invited to the event, where they met some of their England cricketing heroes, including England one-day-captain Eoin Morgan, England women's World Cup-winning wicketkeeper Sarah Taylor, former England captain Michael Vaughan and ex-player Isa Guha.
"They were very nice," says Erin.
"They answered silly questions like who their favourite superhero was," adds Kira.
In case you were wondering, Sarah Taylor's is Spiderman, while, unsurprisingly, England batsman Eoin Morgan's is Batman.
'It's all about having fun'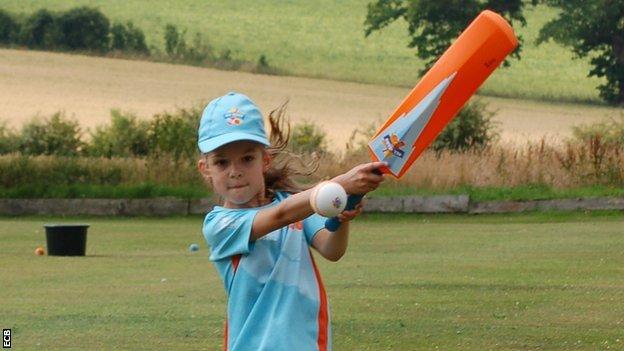 Kings Heath was one of the standout clubs last year, winning the All Stars Host of the Year award for 2017.
"We were expecting about 20 to 30 kids and ended up with 80-plus. It was a good problem to have," says volunteer David Malcolm, who, along with mum Jo, helps oversee the coordination of All Stars at the club.
All Stars sessions cater for boys and girls of all abilities and there are also activities tailored to children with special needs.
"It's all about splitting them into age and ability groups, introducing them to some of the basic concepts," says David.
"The brilliant thing about All Stars is that a lot of it isn't cricket-specific. A lot of people worry about all the awkward bowling actions and batting shots but really it's just the basics - throwing, catching and hitting.
"It's about the kids having fun, making friends, and feeling like they've achieved something."
Reach for the stars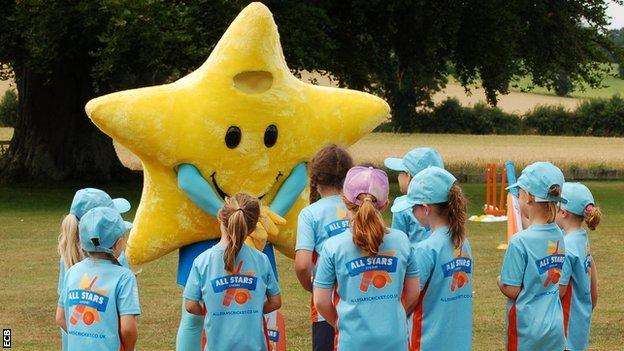 Asma Ajaz-Ali, who coaches at Kings Heath and surrounding clubs, says it is the "best thing the ECB have ever developed for children and cricket"
She has also been quite innovative when delivering her All Stars sessions.
"While playing cricket, we incorporate planets, aliens, wear silly costumes and create more around the 'star' theme," she says.
"The kids loved it last year. It was something different every week. They learned things like hand-eye co-ordination but they were running around these planets."
All Stars also encourages parents to get involved with sessions and provide videos and resources for children to practise at home, in the garden or at the park.
Asma plans to introduce a 'black hole' to her sessions this summer, using a cloth covering a giant hoop which the children have to throw the ball into.
And it seems the 'star' theme is working wonders, with Erin saying the biggest thing she has learned is to "reach for the stars" when bowling with a straight arm.
Find an All Stars cricket session near you or look at other ways in which you can get involved in cricket with this Get Inspired guide.