London Marathon: Five inspiring stories from runners taking part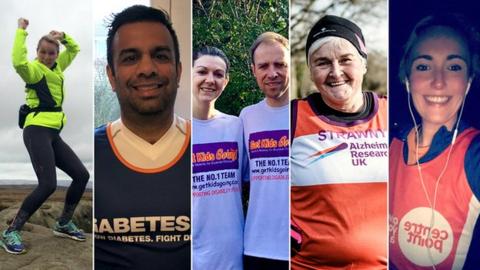 London Marathon 2018
Date: Sunday, 22 April Start times (BST): Elite wheelchair (08:55), World Para-athletics Marathon World Cup (09:00), Elite Women (09:15), Elite Men & Mass start (10:00)
Coverage: Live on BBC TV, HD, Red Button, 5 live sports extra,BBC Radio London, online, mobile, the BBC Sport app and Connected TV
A world record 386,050 people applied to run the 2018 London Marathon via the ballot - the highest number of applicants for any marathon in the world.
Of those who were lucky to gain a place will be people aiming to beat a particular time, those running specifically to raise money for a good cause and those attempting the 26.2 miles in a costume (or part of one).
All of them will have a tale to tell both before and after the event. Here are five of those inspiring stories...
'I've only got lost once so far'
When Sue Strachan was diagnosed with vascular dementia three-and-a-half years ago she was told by her doctor that keeping fit and exercising could help manage her symptoms.
She turned to the Couch to 5k app, which helps beginners to get off the couch and running in just nine weeks, and initially her goal was to finish a half-marathon before turning 60, which she did in October 2015.
Now tackling what she calls "the big one", one of Sue's main challenges has been not getting lost while training.
"I stick to the same routes around where I live," explains Sue. "I know all the landmarks, but I often can't remember the order they come in."
Read more about Sue's story here
'A battle to control my diabetes'
On Sunday, Sandeep Chauhan's fiancee, parents and brother will be cheering on from the sidelines as the 38-year-old runs his first London Marathon (and first ever marathon).
In May 2015, Sandeep was diagnosed with type-2 diabetes, a condition that also runs in his family.
He decided he was going to do everything he could to get fit and not let diabetes get the better of him, joining Kimberley and District Striders running club.
"I want to lose weight, improve my health and general fitness and see how long I can stay off medication," he says.
"The London Marathon is the first step in a lifelong battle to control my diabetes."
Read more about Sandeep's story here
'Life couldn't go on as it was'
After giving birth to son William prematurely in December 2015, Claire O'Hara spent three months recovering in hospital and her eating habits changed, affecting her both physically and mentally.
As her weight tipped over 18 stone, she struggled to keep up with her toddler and was determined to make some changes.
"I was an overweight mum who figured out life just couldn't go on the way it was," says the 29-year-old from Liverpool.
She joined a local slimming group and started exercising, eventually losing a staggering eight stone in 16 months.
"I couldn't walk when I first started but I persisted and it paid off," she adds.
Read more about Claire's story here
Here come the bride and groom
A couple who runs together, stays together - that's what Mel Elliott and James Parker, both 46, will be hoping for as they take part in the London Marathon on one of their most important days of their life - their wedding.
"As keen runners we wanted to do the London Marathon together and what better opportunity to do it but as newlyweds," explains Mel.
"Within days of securing the charity places, I had the registrars and venue booked."
Mel and James, from Leicester, will get married at 07:30 BST in Greenwich, giving them plenty of time to get to the start line while their guests and nine-year-old daughter Jess enjoy the wedding breakfast.
Read more about Mel and James' story here
'The comment that inspired my big life change'
It was on 31 December, 2011 that Joanne Graham decided to make changes to her lifestyle after a conversation at a New Year's Eve party.
"Someone asked me what had happened to me," says 42-year old Joanne (that 'someone' being her best friend's mum).
"When questioned she said, 'you used to be thin'. For me, that was that; the next day I went out for a run."
Joanne has gone on to run several half marathons and three marathons, but on Sunday it will be a dream come true for the mum-of-two.
"The London Marathon is a race I have always watched and to me it is my ultimate dream. This year I get to live the dream, and I will enjoy every minute,"
Read more about Joanne's story here
You'll be able to follow the live TV and radio coverage along with live text and the best of social media with the London Marathon live page on the BBC Sport website, app and connected TVs.
Get involved with the conversation in the build up and on race day using the #GetInspired hashtag on social media or email us.