Natasha Jonas: 'If you've got talent - respect it and pursue it'
By Sophie Brougham
BBC Get Inspired
Last updated on .From the section Get Inspired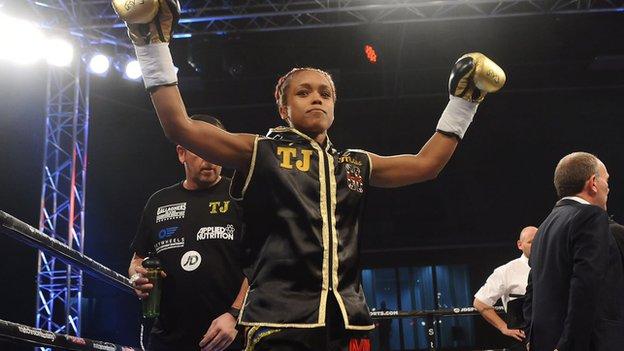 "Women don't just stay at home and look after the kids, we don't just do dance or gymnastics, we play tennis, football and rugby, we box."
Natasha Jonas, Britain's first female Olympic boxer in 2012, knows better than anybody the importance of being able to bounce back.
"I hadn't done any exercise for a year and I'd put on a lot of weight and lost a lot of confidence. I started training in my uncle's gym to tone up and met a lady who runs women's boxing sessions.
"She bugged me to go but I'd never really thought about boxing - I didn't fancy getting punched in the face! Eventually I agreed to try it and I was hooked."
Challenging stereotypes
Growing up, Natasha was deemed a tomboy and she thinks this is one reason young girls are put off from trying sports in the first place.
"I consider myself to be feminine and womanly, but I wasn't seen that way growing up because I liked to play 'men's sports' such as football and rugby.
"Sport wasn't cool among girls so I felt I had to hide my interest to fit in but I'd say to anybody now; if you've got a talent - respect it and pursue it."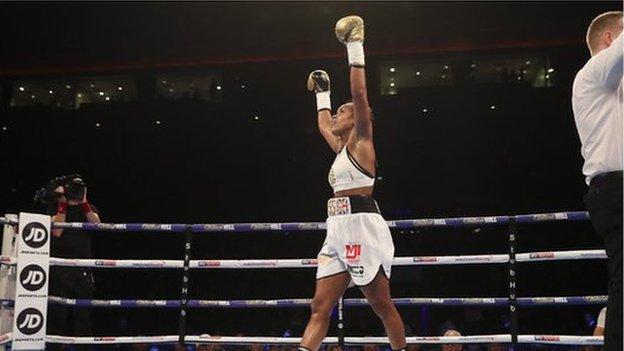 Natasha, 33, believes that times are changing and there is less focus on sexualising women in sport.
"We're are at a stage now where there is a shift. People have realised it isn't appropriate to talk about how a woman looks when she's playing sport because you wouldn't have the same conversation about a man."
She says that the prejudice surrounding women in sport comes from outside eyes looking in and despite the barriers women may face, there has never a been a better time to get into boxing.
"Female boxing has come a long way since I started, coaches didn't know what to do with women because we'd never been in the sport before."
Just give it a go
Going from self-described "overweight, unemployed scally" to the first female boxer to represent Great Britain at the Olympics took some self-belief but Natasha believes a lot of her success comes from seizing opportunities.
"I've never been scared to try anything. If something doesn't work out, such as the football then at least I can say I gave it a go. It would hurt me more to have regrets than it does if I've tried something and failed.
"The hardest part is getting yourself to the gym and starting. Once you're here you realise you're just another boxer, it doesn't matter if you're a man or woman."