Three sports which have been adapted for the elderly - five stories from the week
Last updated on .From the section Get Inspired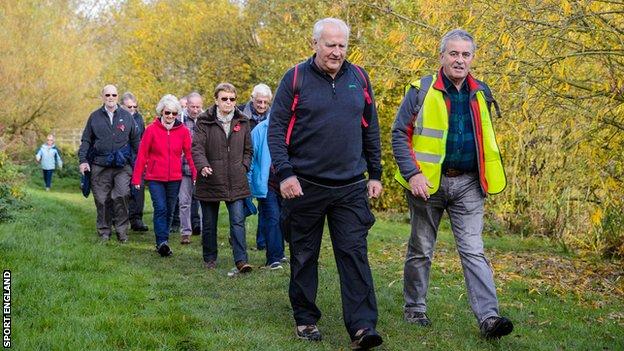 Sports adapted for the elderly
Sport England's latest Active Lives Survey says more people aged between 55 and 74 are meeting the 150 minutes of recommended exercise each week. Volleyball, orienteering and weightlifting are three sports which have been adapted by their governing bodies to encourage older people to get involved. (Telegraph)
An unlikely friendship born through swimming
Peter Dempster was a 16-year-old from Clydebank in Scotland and Karl Hauter was a 19-year-old prisoner of war from Germany. Find out how swimming created a friendship which has lasted over 70 years. (Daily Record)
The 10-year-old golfer looking to take on the adults
At just 10 years old, Evie Napier - who has severe dyslexia - has a golf handicap of 48 and could soon be competing in adult tournaments.
"It's a real Disney-style self-belief story," says her mum Kate. (Maidenhead Advertiser)
Netball for all
A netball team in Blackburn is encouraging girls and women from all backgrounds to take up the sport, even if they are not confident in their abilities.
"The teams are diverse and also represent the black and minority ethnic community," says manager Ruksana Moress. (Asian Image)
Lessons in being a team player
Four celebrities learn to build trust through a game of rugby. This is a clip from Famously Unfit for Sport Relief as entertainer Les Dennis, presenter Susannah Constantine, actress Tameka Empson and comedian Miles Jupp embark on a muscle-grinding mission to regain their fitness.
Do you have a story to share? Get in touch and tell us by tweeting @bbcgetinspired, visit us on Facebook or email getinspired@bbc.co.uk.