Our Games: 'The greatest limitations are in our minds' - Lizzie Tench
Last updated on .From the section Get Inspired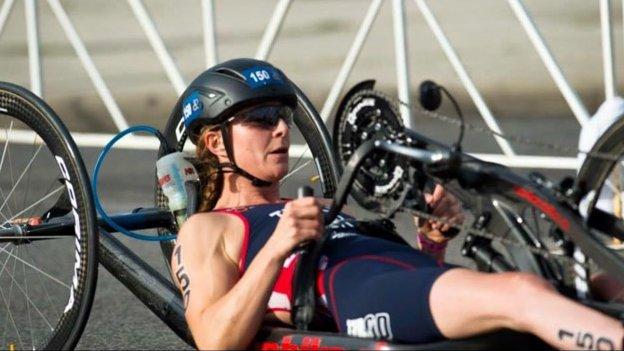 "Sometimes people make my injury the focus. I want to emphasise that my injury doesn't define me."
From social worker, to a rehab hydro-pool, to the Gold Coast, Lizzie Tench will be one of four English athletes taking part in the first ever Commonwealth Games paratriathlon on Saturday morning.
Before her injury Lizzie was fairly active - regularly cycling, running and swimming - but she'd never combined the three and taken part in a triathlon.
Then, after a spinal cord injury in 2012 left her paralysed from the waist down, Lizzie used her rehabilitation to reignite her goal of one day completing the event.
"I'd just had knee surgery before my accident and all I was thinking was when my knees are better I'm going to complete a triathlon," says the 44-year-old from Uttoxeter in Staffordshire.
"But when I became paralysed, my knees weren't such an issue," she said smiling.
The event Lizzie will take part in consists of a 750m swim, 20km cycle and a 5km running stage, completed in a race chair.
'I was pestering the nurses'
Lizzie said she wasn't at all nervous about getting back into sport.
During her rehabilitation period she used the hospital's hydro-pool programme as motivation to get back into sport and, in particular, triathlon.
The pool is used to rehabilitate patients in an aquatic environment, ideally those who are unable to exercise on dry land for various reasons.
"When I found out there was a hydro-pool in the hospital, I was desperate to get in the water," she says.
"I was pestering the nurses 'when can I get in the pool? When can I get in the pool?'
"So as soon as I was allowed to get in I was there. Even when others didn't want to do their sessions, I'd ask to go to theirs instead so I could be in the pool as much as possible."
After her rehab phase was finished, Lizzie visited sports-fest where she was invited to a Talent ID Day with British Paratriathlon, which led to selection for the GB Paratriathlon Talent Squad.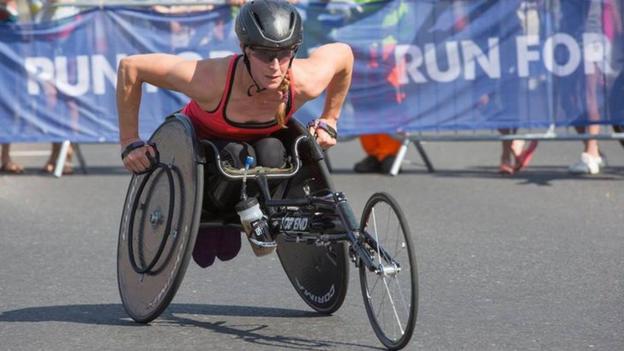 From this she went on to win bronze at the World Championships in 2015, the European title in 2016 and silver at the 2016 World Championships.
Lizzie will be joined by Jade Jones-Hall, Joe Townsend and Mark Conway in the Team England squad.
'Have a go, even if it's scary'
Being active is always something Lizzie has believed in, able-bodied or not, and she credits sport as the saving of her.
"Not everybody's going to win medals and it should never be about the results, it certainly wasn't about that for me," she said.
"Just have a go at things, put yourself out there, even if it's scary."
Lizzie wants to be defined by her sporting success as well as her passion for paratriathlon and keeping active.
"Something life-changing happened to me and I've made something positive come out of it. Even if it seems like your world's falling apart, there's always a way.
"The greatest limitations are in our minds."
Check back to Get Inspired during the Commonwealth Games as Our Games looks at the many faces of sport and activity in the UK.
Tell us your story at GetInspired@bbc.co.uk